Sleeve Gastrectomy Surgery - Medical Park Hospital
Sleeve Gastrectomy Surgery - Medical Park Hospital
Rediscover a healthier and happier you with our Comprehensive Sleeve Gastrectomy Package at Medicalpark Hospital, the widest hospital groups in Turkey.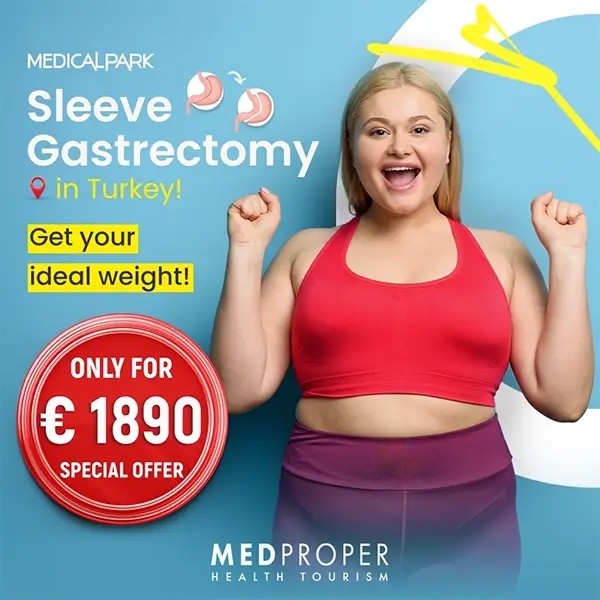 What is Sleeve Gastrectomy Surgery?
Sleeve gastrectomy is a surgical weight loss procedure that involves removing a large portion of the stomach to create a smaller "sleeve"-shaped stomach, reducing its capacity and limiting food intake. This can lead to significant weight loss by promoting earlier satiety and reducing hunger hormones.
Please click here to rediscover a healthier life!
Guided by a team of experienced bariatric specialist, this transformative journey is designed to empower individuals struggling with obesity to achieve sustainable weight loss, improved health, and a renewed sense of vitality.
Find out more about your weight loss journey by clicking Obesity Treatment in Turkey.
What Happens After 10 Years After Gastric Sleeve?
Ten years after undergoing a gastric sleeve surgery, individuals generally experience sustained weight loss and improved metabolic health if they have maintained healthy lifestyle habits. However, individual outcomes can vary based on factors like diet, exercise, genetics, and overall health.
Do not lose the chance of this limited comprenshive package price! Fill the form and we will get back to you immediately!
What is Included?
⭑Doctor Fees [Surgeon, Assistant Surgeon, Anesthesiologist]
⭑Operating Room Charges
⭑2-3 days of Standard room hospitalization for the patient
⭑General Surgery Examination
⭑Endoscopy
⭑Nursing Service Charges, Service Charges
⭑Procedure-related laboratory tests and radiology (Pre-op tests)
⭑Medical equipment and supplies necessary for the procedure
⭑Procedure-related medications
Note: Patient will be fit to fly after 2-3 days from the discharge date.
ONLY FOR 1.890 €!
Who Can Have The Surgery?
The eligibility for gastric sleeve surgery typically includes individuals who:
1. Have a Body Mass Index (BMI) of 35 or higher, or a BMI of 30-35 with significant obesity-related health issues.
2. Have tried and failed to achieve sustainable weight loss through non-surgical methods.
3. Are committed to making necessary lifestyle changes, including dietary modifications and regular exercise.
4. Do not have contraindications that could pose significant risks during surgery.
5. Are psychologically and emotionally prepared for the surgery and its aftermath.
Ultimately, the decision to undergo gastric sleeve surgery is made through consultation with a healthcare professional who assesses each individual's medical history, physical condition, and specific needs.
Why Choose Sleeve Gastrectomy for Weight Loss
Obesity is a complex condition that can have a profound impact on your overall well-being. If you've been struggling with obesity, opting for sleeve gastrectomy can offer life-changing benefits:
Overcoming Health Challenges
Obesity is linked to a range of health conditions such as type 2 diabetes, hypertension, sleep apnea, and joint pain. Sleeve gastrectomy can significantly improve or even resolve these health issues, leading to enhanced quality of life.
Long-Term Weight Loss
Traditional weight loss methods can often be challenging to sustain. Sleeve gastrectomy promotes significant and sustained weight loss by permanently reducing the stomach size, which helps control portion sizes and reduces cravings.
Enhanced Mobility
Shedding excess weight can improve your mobility and make physical activities more enjoyable. You'll have the opportunity to engage in activities that were once challenging, leading to a more active and fulfilling lifestyle.
Improved Self-Esteem
Weight loss achieved through sleeve gastrectomy is often accompanied by enhanced self-confidence and self-esteem. Feeling better physically can have a positive impact on your mental well-being.
Reduction in Obesity-Related Risks
Losing weight can lead to a reduction in the risk of obesity-related health complications, such as heart disease, stroke, and certain types of cancer.
Enhanced Fertility
For those facing fertility challenges due to obesity, weight loss can enhance reproductive health and increase the chances of successful conception.
Positive Influence on Relationships
Improved health and self-confidence can positively impact relationships, allowing you to engage more fully in social activities and build stronger connections.
Improved Quality of Sleep
Obesity can contribute to sleep disorders. Weight loss from sleeve gastrectomy can lead to better sleep quality, improving overall rest and rejuvenation.
Personal Empowerment
Overcoming the challenges of obesity and achieving significant weight loss can empower you to take control of your health and lead a more fulfilling life.
Medical and Emotional Benefits
The positive physical changes you experience are often mirrored by emotional and psychological well-being. Many individuals report reduced stress and improved mental health following successful weight loss.
The Sleeve Gastrectomy Package at Medicalpark Hospital is your opportunity to reclaim your health, transform your life, and embrace a future filled with vitality. Our dedicated team is committed to providing unparalleled support throughout your journey, ensuring you achieve your weight loss goals and experience the multitude of benefits that come with it. Embark on a path of positive change today and look forward to a brighter, healthier tomorrow.
OBESITY
Which type diabetes is related to obesity?
How long does it take to lose weight after obesity surgery?
When can I start eating solid foods after obesity surgery?
What foods should I avoid after obesity surgery?
How much should I eat after bariatric surgery?
When can I start drinking regular beverages after surgery?
Why is it important to avoid drinking with meals?
Can I drink caffeinated beverages after obesity surgery?
What if I experience nausea or vomiting after eating?
Do I need to take supplements after obesity surgery?
When can I resume physical activity and exercise after obesity surgery?
What if I have specific dietary concerns or questions after surgery?
Daha iyi bir deneyim için izninizi istiyoruz.
Medproper Heath Tourism olarak kişisel verilerinize önem veriyoruz ve gizilliğinizi korumayı ilke olarak benimsemiş bulunuyoruz. Bu doğrultuda sizinle iletişime geçmek ve analitik çalışmaların yürütülmesi için çerezler kullanmaktayız.