Cataract Surgery - Bilateral ( With Trifocal Lens )
Cataract Surgery - Bilateral ( With Trifocal Lens )
This disease is manifested by loss of transparency in the lens that is located behind the pupil.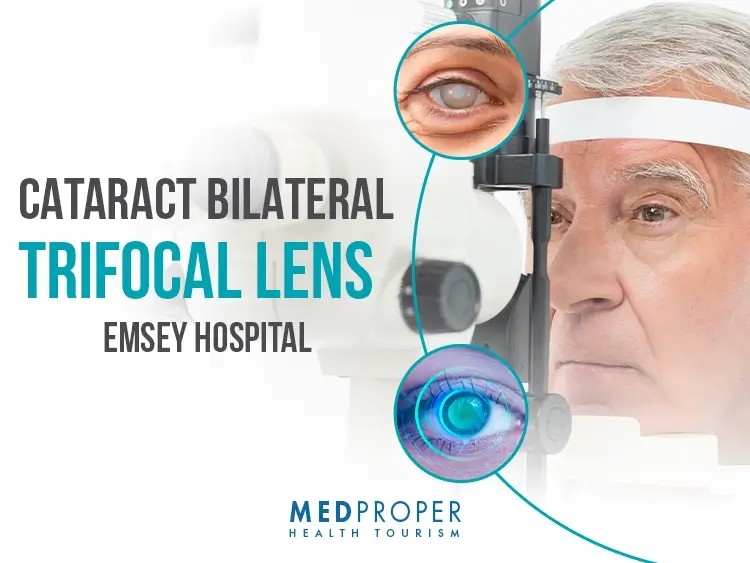 This disease is manifested by loss of transparency in the lens that is located behind the pupil. Cataract cannot be managed with eye drops or eyeglasses. Treatment option is a surgical procedure.
-Frequently changing number of correction glasses and dissatisfied eyesight despite eyeglasses
-Unclear vision despite eyeglasses
-Poor color vision, yellowness
-Decreased vision at night and dim light
If you have any one of these complaints, you may also have cataract.
Since cataract develops and matures over a time, patients may not recognize the slowly progressing loss of vision.
Cataract surgery is a specialized operation that requires use of microsurgical techniques and the devices and materials used for the operation should be very carefully selected.
The eye is usually numbed with local anesthesia and the opacified native lens is broken up and removed with phacoemulsification method and it is replaced by FDA-approved synthetic lenses. Depending on the choice of the patient, Trifocal – Smart Lenses can be used that are correcting both nearsightedness and farsightedness.
Patients are discharged on the same day after the cataract surgery is performed. Both eyes are not concomitantly operated on due to the risk of infection.
What Are The Symptoms of Cataracts?
Although cataracts may not initially show symptoms, they are generally noticed in older age. Blurry and hazy vision, as well as the inability to see clearly, are the most significant symptoms. Vision may deteriorate more in dark environments. Cataracts can also cause colors to appear faded. It is a disease that greatly affects the quality of life.
-Blurred vision for near and distant objects
-Sensitivity to light and glare
-Deterioration of vision on sunny days
-Blurry vision
-Difficulty perceiving colors and a faded color perception
-Eye fatigue and headaches
-Frequent changes in eyeglass prescription
-Reduced need for glasses
-Better near vision without glasses
-Decreased night vision
-Loss of depth perception
What Causes Cataracts?
Cataracts occur as a result of chemical changes in the proteins called crystallins that form the lens of the eye, leading to the formation of clusters of high-molecular-weight proteins. This, in turn, causes cloudy, patchy, and hazy vision. These protein clusters gradually increase over time and hinder the passage of light into the retina.
Several factors can contribute to the development of cataracts, including a family history of cataract disease, various health conditions and illnesses, genetic disorders, past eye surgeries, prolonged exposure of the eyes to sunlight, diabetes, and long-term use of steroid medications.
How Is Cataract Treated?
The most effective way to get rid of cataracts is through surgical intervention. With advancing technology, these surgeries are performed easily and quickly. Hospitalization is not required.
However, there are certain factors to consider before and after the surgery. These include whether the patient has previously undergone cataract surgery, their age, and their diabetic condition. It is important to avoid activities such as swimming pools and saunas during the first 45 days after the surgery. There is a risk of infection, especially during the summer months.
What Advantages Does Our Package Offer?
-Surgery performed by a professor
-Surgery with trifocal lenses
-Smart intraocular lens (which also helps improve certain vision problems)
-Emsey Hospital's proximity to Sabiha Gokcen Airport, where the treatment will be conducted
-Emsey Hospital's JCI accreditation
-Cost-effective opportunity for bilateral eye surgery.
Make an immediate payment and get a quick reservation to prevent cataracts!
Fill out the Information Form for more details!
The hotel price is not included in the package price.
Daha iyi bir deneyim için izninizi istiyoruz.
Medproper Heath Tourism olarak kişisel verilerinize önem veriyoruz ve gizilliğinizi korumayı ilke olarak benimsemiş bulunuyoruz. Bu doğrultuda sizinle iletişime geçmek ve analitik çalışmaların yürütülmesi için çerezler kullanmaktayız.