Check-Up For Children
The Pediatric Wellness Expedition at Medproper is a comprehensive check-up package tailored exclusively for children.
Our dedicated team of pediatric specialists is committed to ensuring your child's health and development are on the right track. This package is designed to provide parents with peace of mind and a thorough understanding of their child's well-being?
What is Included?
⭑Medical History Review: Our pediatrician will conduct a thorough review of your child's medical history to understand their overall health and any past medical issues.
⭑Physical Examination: A comprehensive physical examination will be performed, including measurements of height, weight, and vital signs.
⭑Vision and Hearing Screening: Your child's vision and hearing will be assessed to detect any potential issues early.
⭑Nutritional Assessment: Our nutritionist will evaluate your child's dietary habits and provide recommendations for a balanced diet.
⭑Developmental Milestones Assessment: We will assess your child's developmental milestones to ensure they are meeting age-appropriate milestones.
⭑Vaccination Review: Our team will review your child's vaccination history and provide any necessary vaccinations or booster shots.
⭑Dental Check-Up: A pediatric dentist will examine your child's oral health and provide guidance on proper dental care.
⭑Blood and Urine Tests: Age-appropriate blood and urine tests will be conducted to check for any underlying health issues.
⭑Parental Consultation: Following the assessments, our pediatrician will provide a detailed report and recommendations for your child's health and development. You will have the opportunity to discuss any concerns or questions.
Check-Ups
-Pediatric examination
-Consultation with a nutritionist and dietitian
-Ophthalmological examination
-ENT examination
-Dental examination
Hearing examination
-Tympanometric examination, both sides
Laboratory tests
-Anti-HBc IgG (immunological analysis on microparticles-MEIA or equivalent)
-C-reactive protein (CRP) turbidimetric
-Urinalysis (Fully automated urine biochemistry and microscopy)
-ASO (nephelometric)
-Glucose
-Stool microscopy and parasitic examination
-HBsAg (ELISA)
-Complete blood count (CBC)
-Sedimentation
-Alanine aminotransferase (ALT)
-Aspartate aminotransferase (AST)
-Blood urea nitrogen (BUN)
-Creatinine
-Total IgE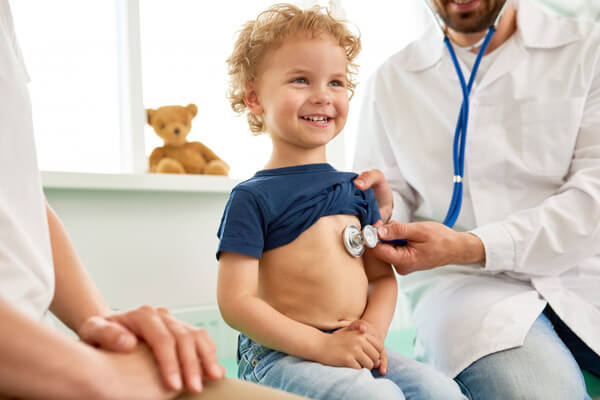 How Often Should I Bring My Child for This Check-Up?
We recommend annual check-ups for children to monitor their growth and development consistently.
Are There Any Age Restrictions for This Pediatric Check-Up Package?
This package is suitable for children of all ages, from infants to adolescents.
Will My Child Need Vaccinations During This Check-Up?
If any vaccinations or booster shots are due, they will be administered during the check-up.
How Can I Schedule a Pediatric Wellness Expedition for My Child?
To schedule a check-up for your child, please contact our clinic at medproper.com
Benefits of Check-Up for Children
- Early Detection: Detect and address potential health issues early, ensuring timely intervention if needed.
- Peace of Mind: Gain confidence in your child's health and well-being through comprehensive assessments.
- Customized Care: Receive personalized recommendations tailored to your child's unique needs.
- Healthy Habits: Establish healthy habits and nutritional choices for your child's growth and development.
Daha iyi bir deneyim için izninizi istiyoruz.
Medproper Heath Tourism olarak kişisel verilerinize önem veriyoruz ve gizilliğinizi korumayı ilke olarak benimsemiş bulunuyoruz. Bu doğrultuda sizinle iletişime geçmek ve analitik çalışmaların yürütülmesi için çerezler kullanmaktayız.