Eyebrow Transplant in Turkey - Medical Park GOP
Eyebrow Transplant in Turkey - Medical Park GOP
For individuals seeking a fuller, natural-looking eyebrow, our clinic in Medical Park GOP offers state-of-the-art hair transplant techniques.
We specialize in FUE with the Sapphire Pen and DHI with the CHOI Pen, ensuring optimal results tailored to your unique needs.
What Is Included?
⭑Advanced transplantation techniques: FUE using Sapphire Pen and DHI with a non-shaving option.
⭑VIP transfers: Reception and farewell services, including all VIP transfers during your stay in Istanbul.
⭑Medical examinations: Preview, full medical check-ups, and analyses.
⭑Eyebrow Transplant: Employing both Sapphire FUE and Direct Hair Transplant (DHI) methods.
⭑Plasma PRP -HT session: To strengthen hair, prevent hair loss, and nourish hair follicles.
⭑Pharmaceutical Pouch: Contains essential post-operative drugs, shampoos, lotions, and medical creams.
⭑Translator facilities.
⭑Wound care and dressing.
⭑2-night accommodation in Istanbul.
Our hair transplant experts analyze your current eyebrow condition and recommend the best technique suitable for you.
Note: Both techniques can be applied simultaneously, depending on patient suitability. A minimum stay of 2 days in Istanbul is necessary.
Your Schedule in Istanbul
Upon arrival in Turkey, our team will escort you to your hotel, with transfers being complimentary. The following is an example of the treatment schedule:
1st Day: Transfer to the hospital for preliminary examinations, blood tests, and the transplantation procedure. Post-procedure, you will be transferred back to your hotel.
2nd Day: Dressing, control examination, hair washing, and final transfer to the airport. You will also receive necessary post-operative medications and guidance.
P.S: Your schedule might vary based on flight details.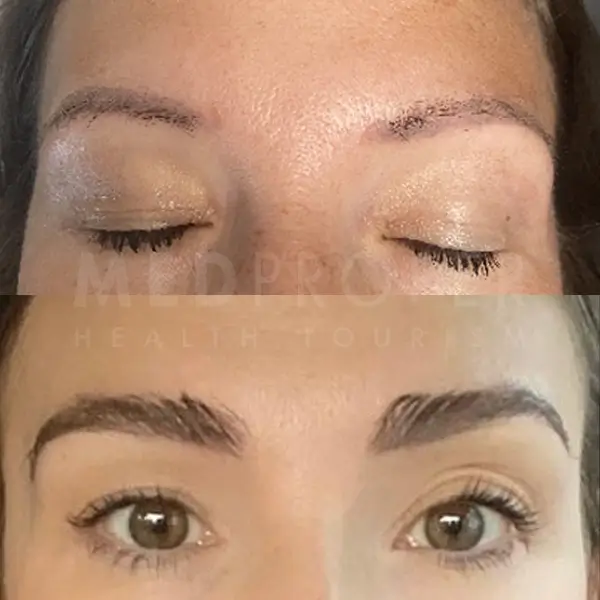 Highlights of FUE with Sapphire Pen
Minimally Invasive: Reduced trauma to the donor area.
Natural Results: Tiny, well-distributed incisions for a natural finish.
Quick Healing: Accelerated recovery process.
Highlights of DHI with Non-Shaving Option
No Shaving: Maintain your existing hair length.
Precise Results: Control over depth, angle, and direction.
Minimal Discomfort: A smoother overall experience.
The Eyebrow Transplant Process
Initial Consultation: Addressing your goals and concerns.
Safety Measures: Comprehensive medical evaluations and strict infection control.
Local Anesthesia: Ensuring a pain-free procedure.
Transplantation: Depending on the chosen method, either FUE or DHI will be employed.
Post-Operative Care: Guidance on recovery and available support.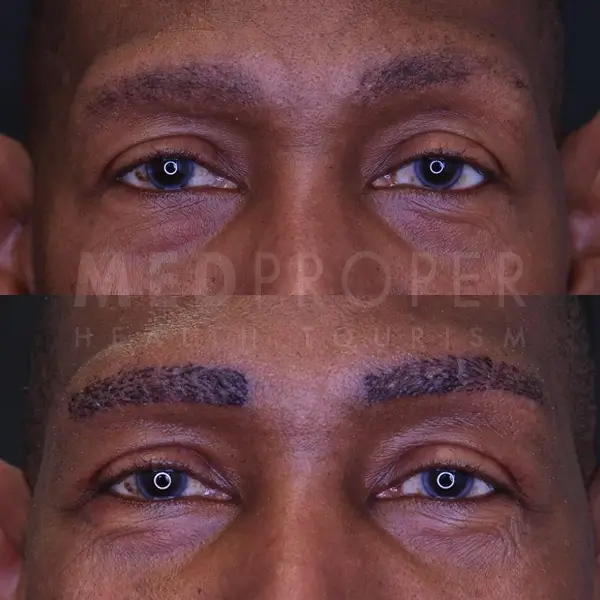 What Is FUE with Sapphire Pen?
A technique using sapphire-tipped blades for precise hair follicle extraction.
How Is DHI Different?
Direct implantation without prior recipient site incisions, ensuring more precise results.
Is Non-Shaving Option Available for All?
Yes, for patients wishing to maintain their existing hairstyle.
What is Eyebrow Transplant Procedure Duration?
Typically, the procedure is completed within a few hours, depending on individual needs.
Daha iyi bir deneyim için izninizi istiyoruz.
Medproper Heath Tourism olarak kişisel verilerinize önem veriyoruz ve gizilliğinizi korumayı ilke olarak benimsemiş bulunuyoruz. Bu doğrultuda sizinle iletişime geçmek ve analitik çalışmaların yürütülmesi için çerezler kullanmaktayız.