Revision Rhinoplasty Package
Revision Rhinoplasty Package
Our Revision Rhinoplasty Package at Medproper is tailored to individuals who seek correction or enhancement following a previous rhinoplasty procedure.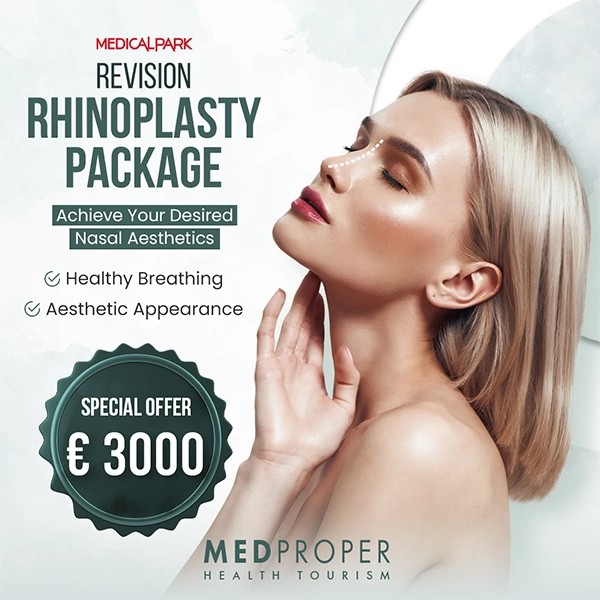 Achieve Your Desired Nasal Aesthetics
Our skilled ENT surgeon is dedicated to helping you achieve the nasal aesthetics you desire.
Why Might Someone Consider Revision Rhinoplasty?
Revision rhinoplasty is often pursued to address dissatisfaction with the results of a previous rhinoplasty, correct functional issues, or refine nasal aesthetics further.
Is Revision Rhinoplasty More Complex Than Primary Rhinoplasty?
Revision rhinoplasty can be more complex due to the presence of scar tissue and altered nasal structures. Our surgeon specializes in these challenging cases.
What Can I Expect in Terms of Scarring From Revision Rhinoplasty?
Incisions are typically made inside the nose (closed rhinoplasty) or in inconspicuous locations (open rhinoplasty) to minimize visible scarring.
What Is Included?
⭑Doctor Fees [Surgeon, Assistant Surgeon, Anesthesiologist]
⭑Operating Room Charges
⭑1-2 days of Standard room hospitalization for the patient
⭑ENT Examination
⭑Nursing Service Charges, Service Charges
⭑Procedure-related laboratory tests and radiology (Pre-op tests)
⭑Medical equipment and supplies necessary for the procedure
⭑Procedure-related medications
Note: The patient should stay in our Turkey for 5-7 days.
Package Details
Initial Consultation: Your journey begins with a comprehensive consultation with our experienced ENT surgeon. During this consultation, your specific concerns and goals for revision will be discussed, and a personalized treatment plan will be developed.
Revision Rhinoplasty Procedure: Our skilled surgeon will perform revision rhinoplasty, a specialized surgical procedure aimed at addressing and improving the results of a previous rhinoplasty. Whether you're seeking correction or enhancement, our surgeon will work closely with you to achieve your desired outcome.
Hospital Stay: You will receive post-operative care in a modern and comfortable hospital environment. Our dedicated nursing staff will ensure your comfort and monitor your recovery.
Recovery and Follow-Up: After the procedure, you will have scheduled follow-up appointments with our plastic surgeon to assess healing progress and address any questions or concerns.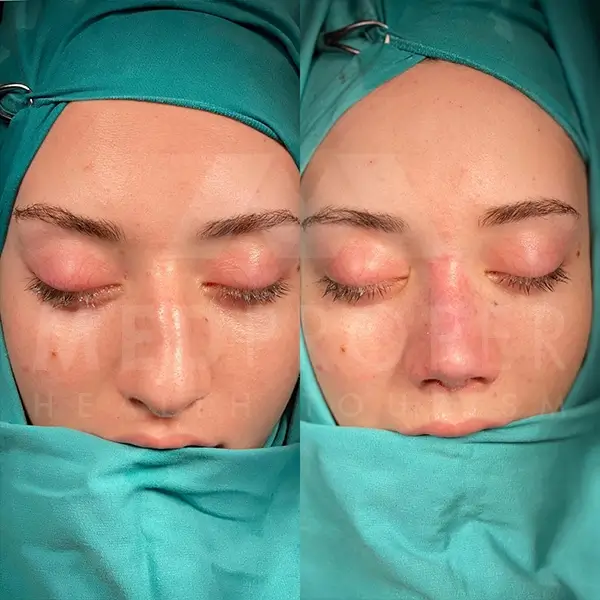 Is There a Risk of Further Complications After Revision Rhinoplasty?
Our surgeon will carefully assess your individual case and discuss any potential risks during your consultation.
When Will I See the Final Results of My Revision Rhinoplasty?
While you will see initial results after swelling subsides, the final results may take several months to fully manifest as the nose settles into its new shape.
How Can I Schedule a Consultation for Revision Rhinoplasty at Your Clinic?
To schedule a consultation with our ENT surgeon, please contact us.
Benefits of Revision Rhinoplasty
Refinement of Nasal Aesthetics: Achieve the nasal appearance you desire with precision and expertise.
Correction of Previous Issues: Address any functional or aesthetic concerns that may have arisen from a previous rhinoplasty.
Increased Self-Confidence: Enhance your self-esteem and confidence with a nose that complements your facial features.
Recovery Process After Surgery
Recovery times after revision rhinoplasty can vary depending on the extent of the procedure. Most patients can expect to resume their normal activities within two to three weeks, with complete healing achieved over several months. Our team will provide you with a detailed recovery plan.
Daha iyi bir deneyim için izninizi istiyoruz.
Medproper Heath Tourism olarak kişisel verilerinize önem veriyoruz ve gizilliğinizi korumayı ilke olarak benimsemiş bulunuyoruz. Bu doğrultuda sizinle iletişime geçmek ve analitik çalışmaların yürütülmesi için çerezler kullanmaktayız.