Septoplasty + Rhinoplasty Package
Septoplasty + Rhinoplasty Package
Our Septoplasty + Rhinoplasty Package offers a comprehensive solution for individuals looking to improve both the function and aesthetics of their nose.
Achieve optimal nasal function and aesthetics. Our expert ENT specialist work in tandem to provide you with optimal results.
What is The Advantage of Combining Septoplasty and Rhinoplasty in A Single Procedure?
Combining the procedures allows for comprehensive improvement of both function and aesthetics, reducing overall downtime.
Will I Experience Any Changes in My Voice or Sense of Smell After These Procedures?
These procedures are primarily focused on function and aesthetics, and changes in voice or sense of smell are rare.
What Is Included?
⭑Doctor Fees [Surgeon, Assistant Surgeon, Anesthesiologist]
⭑Operating Room Charges
⭑1-2 days of Standard room hospitalization for the patient
⭑ENT Examination
⭑Nursing Service Charges, Service Charges
⭑Procedure-related laboratory tests and radiology (Pre-op tests)
⭑Medical equipment and supplies necessary for the procedure
⭑Procedure-related medications
Note: The patient should stay in our Turkey for 5-7 days.
Package Details
Initial Consultation: Your journey begins with a thorough consultation with our ENT specialist. During this consultation, your nasal condition, functional concerns, and aesthetic goals will be discussed.
Septoplasty Procedure: Our experienced ENT specialist will perform septoplasty, a procedure aimed at correcting a deviated septum, allowing for improved nasal function.
Rhinoplasty Procedure: Our surgeon will perform rhinoplasty, addressing your aesthetic concerns and enhancing the overall appearance of your nose to complement your facial features.
Hospital Stay: You will receive post-operative care in a modern and comfortable hospital environment. Our dedicated nursing staff will ensure your comfort and monitor your recovery.
Recovery and Follow-Up: After the procedures, you will have scheduled follow-up appointments with our ENT specialist to assess healing progress, function, and aesthetics.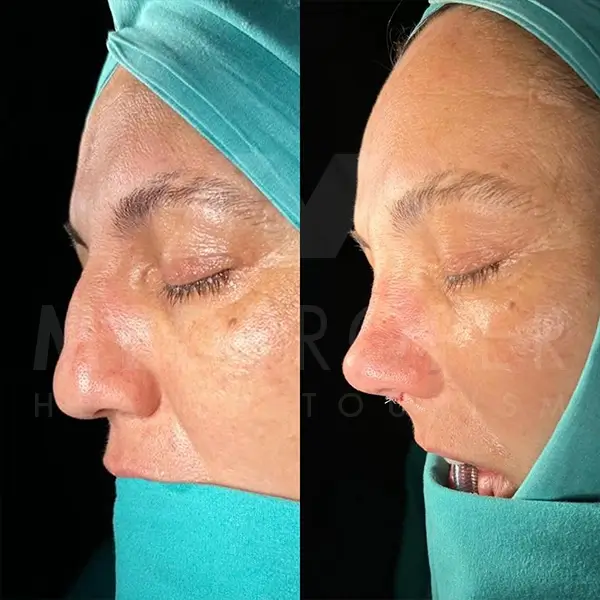 Can I Have Both Procedures Done in A Single Surgery Session?
Yes, our experienced surgical team can perform both septoplasty and rhinoplasty during a single session for your convenience.
What Are The Potential Risks Associated With Combined Septoplasty and Rhinoplasty?
Our surgeons will discuss potential risks and complications with you during your consultation, but rest assured, they have extensive experience in these procedures.
When Will I See The Final Results of My Combined Septoplasty and Rhinoplasty?
While you will see initial results after months as the nose settles into its new shape and function.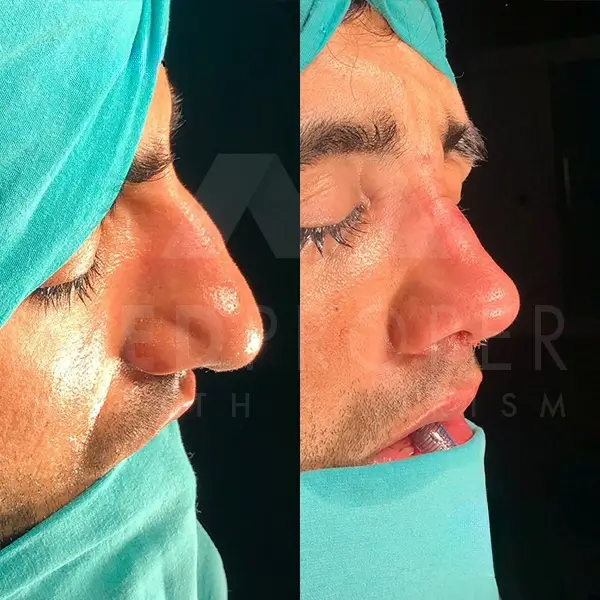 Benefits of Septoplasty + Rhinoplasty Package
- Improved Nasal Function: Correct a deviated septum for enhanced airflow and nasal function.
- Enhanced Nasal Aesthetics: Achieve a more harmonious and attractive nasal appearance.
- Comprehensive Care: Benefit from the expertise of ENT specialist.
Recovery Process After Surgery
Recovery times after combined septoplasty and rhinoplasty can vary depending on the extent of the procedures. Most patients can expect to resume their normal activities within three weeks, with complete healing achieved over several months. Our team will provide you with a detailed recovery plan.
Gallery
Daha iyi bir deneyim için izninizi istiyoruz.
Medproper Heath Tourism olarak kişisel verilerinize önem veriyoruz ve gizilliğinizi korumayı ilke olarak benimsemiş bulunuyoruz. Bu doğrultuda sizinle iletişime geçmek ve analitik çalışmaların yürütülmesi için çerezler kullanmaktayız.