Coronary Artery Bypass Grafting
Coronary Artery Bypass Grafting
Coronary Artery Bypass Surgery is a surgical procedure performed to eliminate angina and reduce the risk of death from coronary artery disease.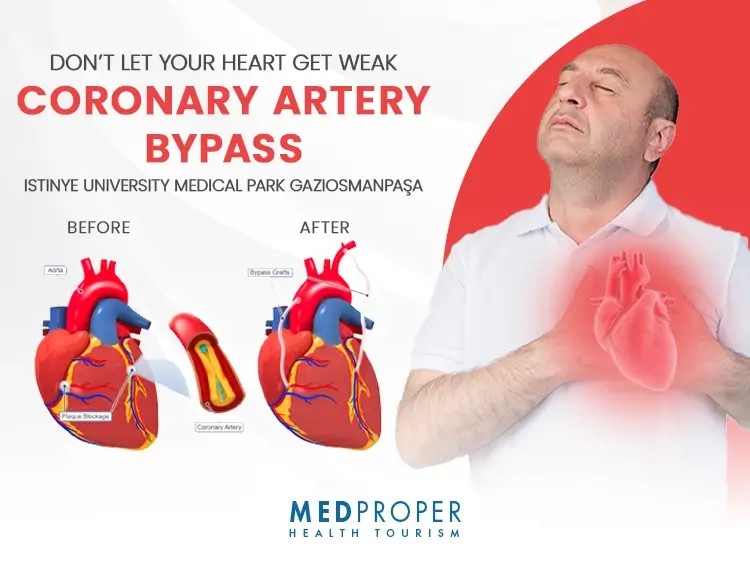 Angina is a chest pain, pressure, or tightness usually caused by ischemia or coronary artery spasms in the heart muscle.
Coronary bypass surgery is based on the discipline of repairing narrowed arteries of the heart by creating bridges with arteries taken from other parts of the body. Generally, the leg veins, arm arteries, or arteries located in the chest wall are used in this procedure.
At What Age Range is Coronary Bypass Surgery Performed?
With advancing technology, the age range for coronary bypass surgery has significantly expanded. In recent years, safe and successful surgeries have been performed on individuals over 40 years of age in Turkey.
What Are the Risk Factors in Bypass Surgery?
The risk factors vary depending on the patient's age, gender, presence of other accompanying illnesses, and preoperative condition. Particularly, patients over 70 years of age have higher risk factors. In addition to these, diabetes, obesity, any other organ disease, a previous heart attack or stroke, heart valve and rhythm disorders, and previously undergone heart surgery are among the most important risk factors.
How Long Does Coronary Bypass Surgery Take?
The duration of the surgery depends on the type of procedure, the number of bypasses to be performed, the presence or absence of any other cardiac surgical intervention during the same session, and whether the patient has previously undergone any heart surgery.
What Are the Methods of Bypass Surgery?
Parallel to advancing technology, different techniques have been applied in bypass surgeries today. In the past, these surgeries were typically performed by opening the chest wall longitudinally from the front, while nowadays, in suitable patients, these surgeries can be performed with small incisions (minimally invasive) and the use of robots (based on the patient's demographics and the severity of the disease).
How is Anesthesia Administered in Bypass Surgery?
General anesthesia is generally administered to patients undergoing bypass and heart valve surgery. In most patients who require heart surgery, heart failure, previous heart attack, high blood pressure, diabetes, smoking, and lung disease due to advanced age are more commonly observed. Therefore, the anesthesia for these patients requires a different approach. Patients scheduled for surgery are evaluated by an anesthesiologist at least one day in advance, and the most suitable anesthesia method is planned accordingly.
Where are the Vessels Used in Bypass Surgery Taken From?
The vessels used in bypass surgery are taken from the patient themselves. There is no place for foreign tissue or synthetic vessels in coronary bypass surgery. These surgeries are performed by preparing the right and left internal mammary arteries, radial arteries from the arm, and saphenous veins from the leg. In terms of long-term results, whenever possible, the use of only arterial grafts is preferred in suitable patients.
How Long is the Hospital Stay After Bypass Surgery?
The hospital stay for a patient in the low-risk group with a normal course after bypass surgery varies between 8-10 days. Each patient is called for a clinic visit one week after discharge, where their medications are adjusted, and they are referred to the cardiology department for long-term follow-up and management of modifiable risk factors (such as high blood pressure, obesity, cholesterol levels, blood sugar regulation, stress, and tobacco use). The time for patients to return to normal daily activities after bypass surgery varies between 2-4 weeks depending on their preoperative clinical condition.
Breathing Exercises After Bypass Surgery
Immediately after bypass surgery, the patient is admitted to the intensive care unit where vital signs are continuously monitored. Once admitted to the ICU, patients whose vital signs show a normal course are awakened and disconnected from the respiratory device within a few hours. From this point onwards, respiratory physiotherapists in the ICU guide patients through exercises at regular intervals. After any surgical procedure performed under general anesthesia, an increase in secretions within the bronchial tubes is observed, but this is more commonly seen after heart surgeries. While it is possible to mechanically clear the increased secretions in a patient connected to a respiratory device, in a patient who is breathing on their own after being disconnected from the device, clearance of accumulated secretions in the airways can only be achieved through respiratory exercises. Otherwise, the secretions in the airways gradually harden and form blockages, leading to respiratory impairments and decreased blood oxygen levels in the patient.
What Kind of Lifestyle is Recommended for Patients After Bypass Surgery?
The fundamental philosophy of bypass surgery is to save the patient from the risk of sudden death and heart attacks, liberate them from a life dependent on medication and restrictions, and thereby improve their quality of life. Therefore, after these surgeries that allow the patient to safely return to their normal life, the most important aspect is to control the modifiable risk factors that contribute to the development and progression of vascular disease, as mentioned above. Additionally, regular monitoring of the disease's progression through periodic check-ups is another important aspect.
Our Coronary Artery Bypass Surgery Prices
The pricing for Coronary Artery Bypass Surgery is determined based on the procedure deemed suitable by your doctor, with pricing up to €20,000.
Fill out the Information Form now to schedule your treatment and take advantage of our benefits!
No need for a hotel stay.
Daha iyi bir deneyim için izninizi istiyoruz.
Medproper Heath Tourism olarak kişisel verilerinize önem veriyoruz ve gizilliğinizi korumayı ilke olarak benimsemiş bulunuyoruz. Bu doğrultuda sizinle iletişime geçmek ve analitik çalışmaların yürütülmesi için çerezler kullanmaktayız.