Custom Breast Enhancement Package
Custom Breast Enhancement Package
Our Breast Implant Operation package offers a transformative solution for women looking to enhance their breast size and shape.
Led by experienced plastic surgeons, our package utilizes state-of-the-art breast implants to create natural-looking results, customized to each patient's desired aesthetic goals.
What Is Breast Implant Surgery and What Does The Package Include?
Breast implant surgery, also known as breast augmentation, is a cosmetic procedure to enhance breast size and shape of the breasts. Our Breast Implant Surgery Package includes a detailed consultation, the surgical procedure, the choice of implant type, anesthesia, and post-operative care.
CLICK HERE TO GET A FREE ONLINE CONSULTATION!
What Is Included?
⭑Doctor Fees [Surgeon, Assistant Surgeon, Anesthesiologist]
⭑Operating Room Charges
⭑Implant is used (MOTIVA Breast Implant)
⭑1-2 days of Standard room hospitalization for the patient
⭑Plastic Surgery Examination
⭑Nursing Service Charges, Service Charges
⭑Procedure-related laboratory tests and radiology (Pre-op tests)
⭑Medical equipment and supplies necessary for the procedure
⭑Procedure-related medications
⭑VIP Transfer between Airport - Hotel – Hospital.
Note: The patient should stay in Turkey for 5-6 days.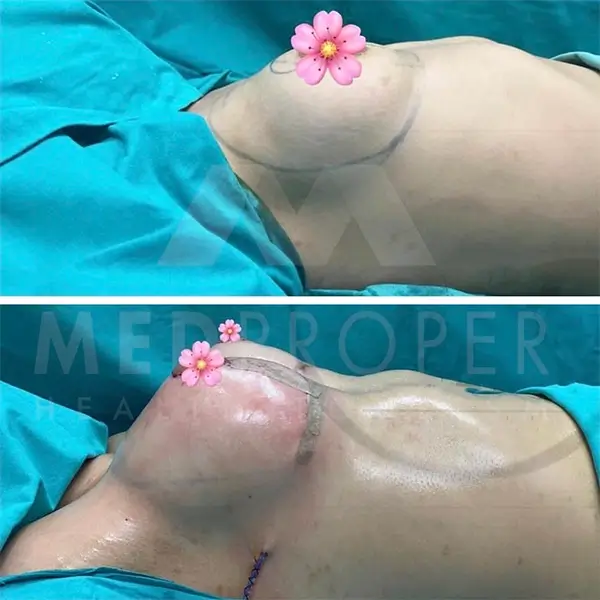 How Long Is The Recovery Period After Breast Implant Surgery?
The recovery period can vary, but most patients can return to normal activities within a few days. Strenuous activities should be avoided for several weeks. Our team will provide you with detailed post-operative care instructions to facilitate a smooth recovery.
Who Is a Suitable Candidate for Breast Implant Surgery?
Suitable candidates for breast implant surgery are individuals in good overall health who wish to enhance the size or shape of their breasts. During your consultation, our surgeon will assess your candidacy based on your specific goals and medical history.
What Types of Breast Implants Are Available and How do I Choose The Right One For Me?
Our package offers a choice between silicone gel and saline implants. During your consultation, our surgeon will discuss the advantages and considerations of each type, helping you make an informed decision based on your preferences and goals.
GET YOUR APPOINTMENT TODAY!
Breast Implants:
⭑Expert consultation with a board-certified plastic surgeon.
⭑Customized breast enhancement plan to achieve your desired size and shape.
⭑Premium FDA-approved implant options: silicone gel or saline.
⭑Skilled surgical team for precision and safety.
⭑Choice of incision locations for optimal results.
⭑Natural-looking, long-lasting breast enhancement.
Expert Consultation: Begin your journey with a detailed consultation with our board-certified plastic surgeon. Discuss your breast enhancement goals, preferred implant size, and incision options to create a personalized treatment plan.
Customized Treatment Plan: Your treatment plan will be meticulously crafted to achieve your desired breast size and shape while ensuring a harmonious and balanced appearance.
Premium Implant Options: Choose from a selection of FDA-approved breast implants, including silicone gel and saline implants, tailored to your specific preferences.
Surgical Precision: Benefit from the expertise of our skilled surgical team, which includes experienced anesthesiologists and dedicated operating room staff.
Incision Choices: Discuss incision options with our surgeon, such as inframammary, periareolar, or transaxillary incisions, to determine the most suitable approach for your unique needs.
Natural-Looking Results: Expect results that enhance your natural beauty, providing you with a more youthful and shapely silhouette.
Minimal Downtime: Experience a relatively short recovery period, allowing you to return to your daily activities sooner than you might expect.
Personalized Aftercare: Receive post-operative care instructions and schedule follow-up appointments to monitor your progress and address any questions or concerns.
Enhanced Confidence: Boost your self-confidence and enjoy a renewed sense of femininity with your enhanced figure.
Long-Lasting Results: Breast implants can provide long-lasting results, allowing you to enjoy your newfound confidence for years to come.
Pre- and Post-Operative Support: Access comprehensive pre-operative guidance and post-operative care to ensure a seamless and successful recovery.
Flexible Financing Options: Explore convenient financing solutions to make your Breast Implants procedure accessible and manageable within your budget.
Additional Beauty Enhancements: Discuss the opportunity to complement your breast enhancement results with other procedures or treatments to further enhance your overall appearance.
Contact us today to schedule your consultation and embark on the journey to redefine your beauty with our Breast Implants package.
Will There Be Visible Scars After Breast Implant Surgery and How Can They Be Minimized?
Scarring is an inherent part of surgery, but our surgeon will make every effort to minimize the visibility of scars. Incisions are typically made in discreet locations, and scar management techniques may be recommended to help scars fade over time.
What Are The Potential Risks and Complications Associated with Breast Implant Surgery?
As with any surgery, there are risks, including infection, bleeding, and changes in sensation. Our surgeon will explain these risks during your consultation, as well as the measures taken to mitigate them.
How Long Do Breast implants last, and will they require replacement in the future?
Breast implants are not considered lifelong devices. On average, they may last around 10 to 15 years, although this can vary. Our surgeon will provide guidance on implant lifespan and potential replacement if necessary.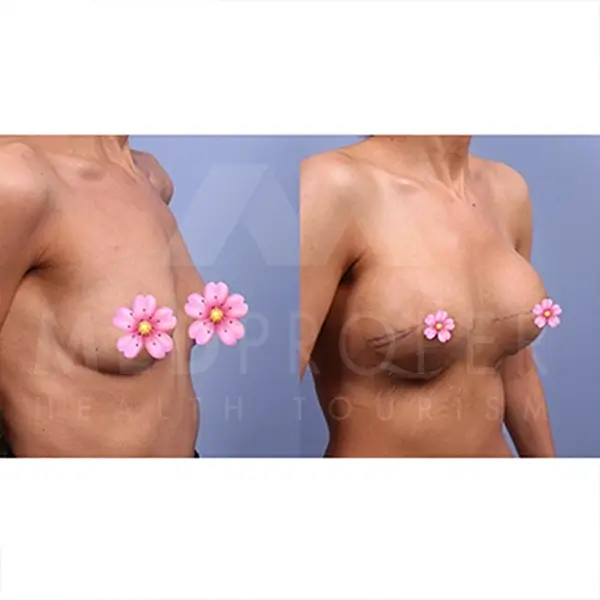 BREAST IMPLANT
What is a breast implant operation, and who is an ideal candidate for the procedure?
What are the types of breast implants available, and how do I choose the right one for me?
Is breast implant surgery painful?
What is the typical recovery period after breast implant surgery?
Will there be visible scarring after breast implant surgery?
How soon will I see the final results after the breast implant procedure?
What are the risks associated with breast implant surgery?
Can breast implants affect breastfeeding?
Will breast implants need to be replaced over time?
Can I combine breast implant surgery with other procedures?
Daha iyi bir deneyim için izninizi istiyoruz.
Medproper Heath Tourism olarak kişisel verilerinize önem veriyoruz ve gizilliğinizi korumayı ilke olarak benimsemiş bulunuyoruz. Bu doğrultuda sizinle iletişime geçmek ve analitik çalışmaların yürütülmesi için çerezler kullanmaktayız.