Full Face Lift Surgery
The Full Face Lift Surgery Package at Medproper is designed to provide patients with a comprehensive facial rejuvenation experience.
This package is ideal for individuals looking to address signs of aging, sagging skin, wrinkles, and restore a more youthful appearance. Our team of experienced surgeons and staff are dedicated to achieving natural-looking results tailored to your unique facial anatomy.
How Long Does The Full Face Lift Surgery Take To Complete?
The duration of the surgery can vary depending on the complexity of your specific case. Typically, it can range from 3 to 6 hours.
What Is The Recovery Time for Full Face Lift Surgery?
Initial recovery usually takes about 1 to 2 weeks, during which swelling and bruising will gradually diminish. It may take several months to see the final, optimal results.
What Is Included?
⭑Doctor Fees [Surgeon, Assistant Surgeon, Anesthesiologist]
⭑Operating Room Charges
⭑2-3 days of Standard room hospitalization for the patient
⭑Plastic Surgery Examination
⭑Nursing Service Charges, Service Charges
⭑Procedure-related laboratory tests and radiology (Pre-op tests)
⭑Medical equipment and supplies necessary for the procedure
⭑Procedure-related medications
⭑VIP Transfer between Airport - Hotel – Hospital.
Note: The patient should stay in Turkey for 6-7 days.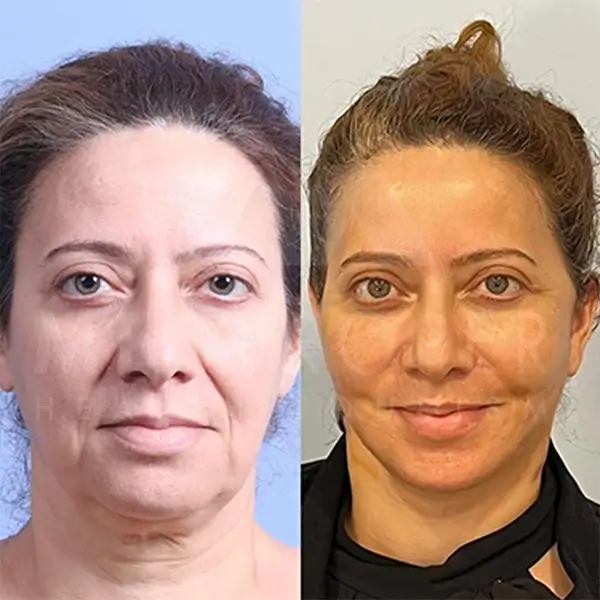 How Long Do The Results of a Full Face Lift Surgery Typically Last?
The results can last for many years, but individual experiences may vary. A healthy lifestyle and skincare routine can help maintain the effects.
Are There Any Risks Associated With Full Face Lift Surgery?
As with any surgical procedure, there are potential risks and complications, such as infection or scarring. Our surgeon will discuss these risks during your consultation.
GET YOUR APPOINTMENT TODAY!
Details of Full Face Lift Package
Consultation: Your journey begins with an in-depth consultation with our skilled facial plastic surgeon. During this consultation, your specific concerns, goals, and expectations will be discussed.
Procedure: The full face lift surgery includes the tightening and lifting of facial muscles and tissues, along with the removal of excess skin. The procedure is typically performed under general anesthesia.
Complementary Procedures: Depending on your unique needs, complementary treatments such as eyelid surgery (blepharoplasty), brow lift, neck lift, or fat grafting may be included in your package to achieve a harmonious and balanced facial rejuvenation.
Recovery: After the surgery, you will receive personalized post-operative care instructions. The initial recovery period may involve swelling and bruising, which will gradually subside, revealing the final results.
Benefits:
Youthful Appearance: Achieve a more youthful and refreshed facial appearance.
Boosted Confidence: Enhance self-esteem and confidence in your appearance.
Natural Results: Our skilled surgeons aim for natural-looking results that avoid the "overdone" appearance.
Tailored Approach: Each surgery is customized to address your unique concerns and goals.
Long-Lasting Effects: Enjoy long-lasting results that can rejuvenate your appearance for years to come.
Rejuvenation:
Sagging Skin: Correct sagging skin on the face and neck.
Wrinkles: Reduce the appearance of fine lines and wrinkles.
Facial Contours: Restore and improve facial contours for a more youthful look.
Harmonious Features: Achieve balance and symmetry in facial features.
BOOK YOUR SURGERY TODAY!
Can I Combine Other Cosmetic Treatments With My Full Face Lift Surgery?
Yes, complementary treatments like eyelid surgery, brow lift, or neck lift can often be combined with a full face lift to achieve comprehensive facial rejuvenation.
What Is The Ideal Age For Considering a Full Face Lift Surgery?
There is no specific age requirement, as individual aging patterns vary. Candidates are typically in their 40s or older, but younger patients with specific concerns may also benefit.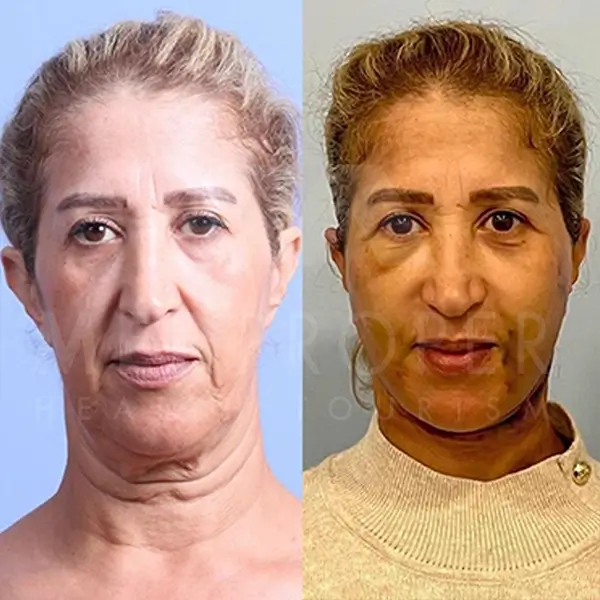 Is The Procedure Painful and How Is Pain Managed During Recovery?
Discomfort is common after surgery, but pain medication will be prescribed to manage it effectively. Our team will provide guidance on pain management strategies.
How Can I Schedule a Consultation to Discuss My Specific Goals and Learn More About The Full Face Lift Surgery Package?
To schedule a consultation with our experienced facial plastic surgeon, please contact our clinic at Medproper.
Daha iyi bir deneyim için izninizi istiyoruz.
Medproper Heath Tourism olarak kişisel verilerinize önem veriyoruz ve gizilliğinizi korumayı ilke olarak benimsemiş bulunuyoruz. Bu doğrultuda sizinle iletişime geçmek ve analitik çalışmaların yürütülmesi için çerezler kullanmaktayız.