Obesity is a pressing health issue in Europe, with rates steadily increasing across the continent. While the extent of the problem varies among countries, the overall trend is deeply concerning. In this article, we'll explore the situation of obesity in Europe, the challenges it poses, and potential solutions.
Across Europe, the prevalence of obesity differs significantly, influenced by diverse factors including dietary habits, lifestyle choices and access to healthcare. Some European nations, such as the United Kingdom, Ireland, Malta, Hungary, and the Czechia, report higher obesity rates. In contrast, countries like France, Italy and Switzerland have comparatively lower rates. However, it's essential to recognize that obesity is a shared challenge throughout Europe.
The rise in obesity brings forth several complex challenges. One of the most significant issues is the strain it places on healthcare systems. Obesity is closely linked to a range of health problems, including heart disease, type 2 diabetes and various cancers. Treating these conditions exacts a substantial toll on healthcare resources and budgets.
Moreover, the economic impact of obesity is profound. The costs include not only increased healthcare spending but also reduced productivity in the workplace and higher rates of absenteeism. Beyond the financial aspect, obesity often leads to social stigma, affecting individuals' mental and emotional well-being. Discrimination and bias against those with obesity can further compound the challenges they face.
In Europe, modern lifestyles often promote unhealthy eating habits and sedentary behaviors. The prevalence of processed foods and the convenience of sedentary leisure activities, such as screen time and desk-bound jobs, contribute to the obesity problem. Environmental factors play a crucial role in shaping behavior, and these can be difficult to address comprehensively.
Addressing the obesity crisis in Europe necessitates a multifaceted approach. Public health education is a fundamental component. Governments can invest in awareness campaigns to educate the population about the health risks of obesity and the benefits of adopting a healthier lifestyle. Schools and community programs can play a pivotal role in teaching individuals about balanced nutrition and making healthier food choices.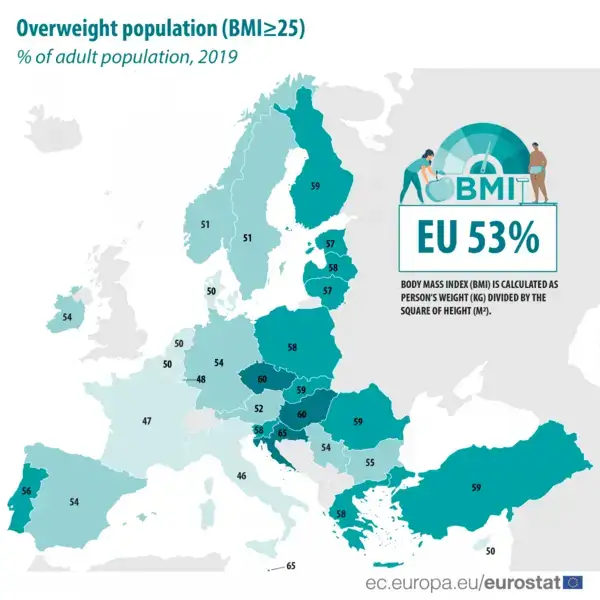 Promoting physical activity is another critical aspect of combating obesity. Initiatives that encourage exercise, such as bike-sharing programs and pedestrian-friendly urban planning, can significantly contribute to healthier communities. Policy changes, such as sugar taxes and restrictions on the advertising of unhealthy foods, can help reshape the food environment, making it easier for individuals to make healthier choices.
Within the healthcare sector, there is a need for obesity prevention and management programs. These programs should encompass dietary counseling, support groups for weight loss, and access to bariatric surgery for those who meet the criteria. Leveraging technology through health apps and wearable devices can also empower individuals to monitor their physical activity and dietary habits.
Cultural sensitivity is crucial when addressing obesity in diverse European populations. Recognizing cultural differences in diet and lifestyle can lead to more effective interventions that respect diverse traditions and preferences. Early intervention, particularly in addressing childhood obesity, is essential. Schools and healthcare providers should prioritize teaching healthy habits from a young age, setting the stage for a healthier adulthood.
In conclusion, obesity rates in European countries may vary, but the challenges it presents are shared. To effectively address this health issue in Europe, collective efforts involving individuals, communities, governments, and healthcare systems are paramount. Raising awareness, promoting healthier lifestyles, implementing effective policies and interventions, and fostering a cultural understanding of diverse populations are all essential steps toward reducing obesity rates and mitigating the associated health and economic burdens.
Graphic Source: eurostat

Obesity is a pressing health issue in Europe, with rates steadily increasing across the continent.