Lung Cancer Treatment
DO YOU SUSPECT LUNG CANCER? Get a FREE Consultation from the BEST DOCTORS IN TURKEY!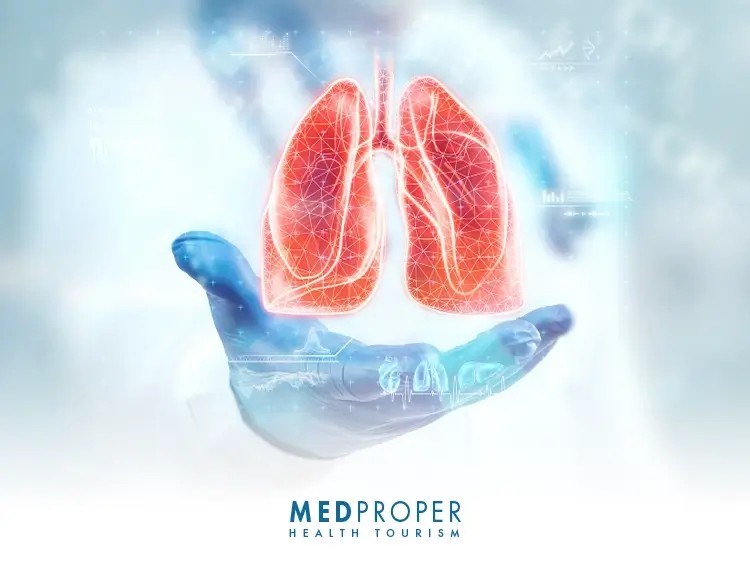 Lung cancer begins when cells from structurally normal lung tissue multiply out of need and control, forming a mass (tumor) in the lung. The mass first grows in its environment, and in later stages, it spreads to the surrounding tissues or distant organs through circulation, causing damage.
Lung cancer is a very common cancer. It causes 12-16% of all cancers and 17-28% of cancer-related deaths.
Kazakhstan and China are the leading places in the world where lung cancer is most common.
For more information about Lung Cancer click here and read our article.
Lung Cancer Symptoms You Might Have
Signs and Symptoms of Lung Cancer may include:
-Continuous Coughing
-Difficulty Breathing
-Weakness
-Shoulder and Arm Pain
-Weight Loss
-Headache
How is Lung Cancer Diagnosed?
Early diagnosis plays an important role in the treatment of lung cancer. Diagnostic tests for lung cancer may include:
-Thorax CT Scan
-MRI
-Biopsy
-Blood Investigations
Why Choose Turkey for Lung Cancer Treatment?
-International Accreditation: Our partner hospitals for lung cancer treatment in Turkey are certified by independent international organizations such as JCI (Joint Commission International) or ISO (International Organization for Standardization), and they are all university hospitals.
-Latest Technology: Latest technologies are applied in our contracted hospitals to achieve great results.
Fill out the Information Form to APPLY NOW!
Gallery
Daha iyi bir deneyim için izninizi istiyoruz.
Medproper Heath Tourism olarak kişisel verilerinize önem veriyoruz ve gizilliğinizi korumayı ilke olarak benimsemiş bulunuyoruz. Bu doğrultuda sizinle iletişime geçmek ve analitik çalışmaların yürütülmesi için çerezler kullanmaktayız.