Pediatric Cardiovascular Surgery (CVS)
Pediatric Cardiovascular Surgery (CVS)
Pediatric Cardiovascular Surgery is a branch that deals with all heart and vascular diseases of a baby from the period inside the womb until the age of 18.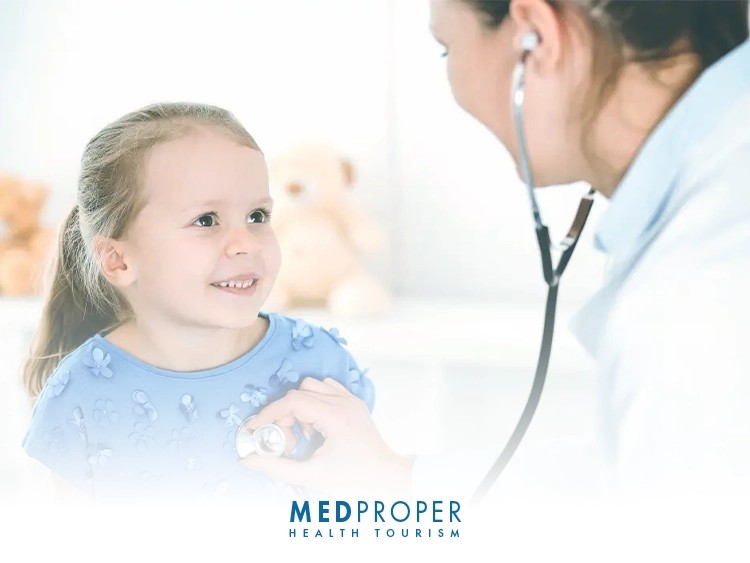 Pediatric CV surgery, along with pediatric cardiology, works multidisciplinarily to ensure the diagnosis and treatment of diseases.
Cardiac diseases in childhood are divided into congenital and acquired categories. Unlike adults, heart disease in children is generally present from birth.
The risk of having a heart disease in children with Down syndrome is 50%. The risk of giving birth to a child with a heart disease for each expectant mother is 0.8%.
1 out of every 100 babies is born with a heart disease. With proper diagnosis and treatment, it is possible for these babies to regain their health. Turkey has achieved international success in the field of Pediatric Cardiovascular Surgery.
What is the Difference Between Cardiology and Cardiovascular Surgery?
The cardiology department deals with the diagnosis and treatment of heart diseases, and also plans the necessary treatment. However, if surgical intervention is required for the treatment of a heart disease in an individual, they are referred to the cardiovascular surgery department. The necessary treatment is performed by surgeons in these departments.
The goal of pediatric cardiac surgery is to examine the heart and blood vessels during childbirth or any congenital anomalies. It covers a wide range of areas, from holes between the chambers of the heart to positional abnormalities of major arteries leaving the heart and the resolution of a blockage in blood circulation.
Which Diseases are Treated in Pediatric Heart and Vascular Surgery?
-Hypoplastic Left Heart Syndrome
-Cyanotic Congenital Heart Disease
-Ventricular and Atrioventricular Septal Defect
-Truncus Arteriosus
-Pulmonary and Tricuspid Atresia
-Aortic Coarctation
-Patent Ductus Arteriosus
What Symptoms Are Observed in a Child with Heart Disease?
-Bluish Discoloration of the Hands and Feet
-Bluish Discoloration of the Lips and Mucous Membranes
-Fatigue
-Poor Feding
-Rapid Breathing
-Irregular Heartbeat
What Kind of Life Can Children Expect After Heart Surgery?
The goal after the procedure is always to ensure the patient's full recovery. Therefore, certain tests and examinations continue to be conducted after the surgery. A child who has regained their health can continue to live a normal or near-normal life.
Early Diagnosis in Pediatric Heart Diseases
Just like in any other disease, early diagnosis and treatment are of great importance in heart diseases. Especially in newborns with certain congenital heart problems, it is important to be more cautious and follow a multidisciplinary approach. If a child is diagnosed with a congenital heart disease, they must be regularly examined by a pediatric cardiologist. If surgical intervention is necessary, this doctor should determine the appropriate timing in consultation with a pediatric cardiac surgeon.
Of course, there can also be cases that require multiple heart surgeries.
Why Choose Turkey for Pediatric Cardiovascular Surgery?
-International Accreditation
-Latest Technology
-Affordable Prices
-Fastest Treatment Arrangements
Fill out the Information Form to contact us immediately!
Daha iyi bir deneyim için izninizi istiyoruz.
Medproper Heath Tourism olarak kişisel verilerinize önem veriyoruz ve gizilliğinizi korumayı ilke olarak benimsemiş bulunuyoruz. Bu doğrultuda sizinle iletişime geçmek ve analitik çalışmaların yürütülmesi için çerezler kullanmaktayız.