Barbie Nose Surgery: Refining Elegance and Confidence
Barbie Nose Surgery: Refining Elegance and Confidence
At Medproper, we understand that the shape and proportions of the nose play a significant role in facial harmony.
Our Barbie Nose Surgery package is designed to help you achieve the refined and balanced nose appearance you desire, enhancing both your aesthetic beauty and self-confidence.
What Is Barbie Nose Surgery?
Barbie Nose Surgery, also known as Rhinoplasty, is a cosmetic procedure aimed at reshaping and refining the nose's appearance to achieve a more harmonious and balanced facial profile.
Who Is An Ideal Candidate For Barbie Nose Surgery?
Ideal candidates are individuals dissatisfied with the shape, size, or proportions of their nose, seeking to enhance their facial aesthetics and achieve a more balanced appearance.
How Is The Surgery Performed?
The surgery involves making discreet incisions to access the nasal structures. Our skilled surgeon will then reshape and sculpt the nasal cartilage and bone to achieve the desired result.
What Is Included?
⭑Doctor Fees [Surgeon, Assistant Surgeon, Anesthesiologist]
⭑Otoplasty Surgery
⭑Operating Room Charges
⭑1 days of hospitalization
⭑ENT Examination
⭑Nursing Service Charges, Service Charges
⭑Procedure-related laboratory tests and radiology (Pre-op tests)
⭑Medical equipment and supplies necessary for the procedure
⭑Procedure-related medications
Note: Patient will be fit to fly after 3-4 days from the discharge date.
GET A FREE ONLINE CONSULTATION NOW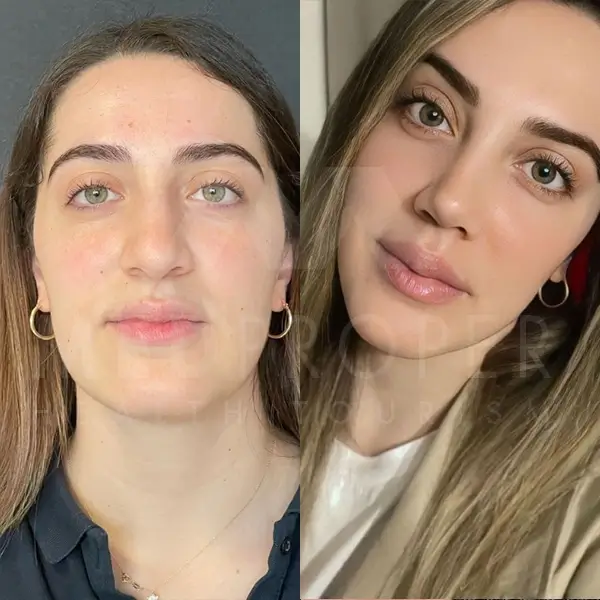 Details of Barbie Nose Package
1. Comprehensive Consultation: Begin with an in-depth consultation with our skilled plastic surgeon to discuss your aesthetic goals, concerns, and expectations.
2. Personalized Treatment Plan: Our surgeon will create a personalized treatment plan tailored to your unique facial features, ensuring a harmonious and natural-looking result.
3. Barbie Nose Reshaping: Undergo the Barbie Nose Surgery, where our surgeon skillfully refines the nasal structure to achieve the desired shape, size, and proportions.
4. Minimal Scarring Techniques: Our skilled surgical team utilizes advanced techniques to minimize visible scarring, ensuring a discreet and elegant outcome.
5. Expert Surgical Precision: The surgery is performed with meticulous attention to detail, incorporating the latest advancements in plastic surgery for optimal results.
6. Rapid Recovery Care: Benefit from our post-operative care plan, designed to support a comfortable and efficient recovery process.
7. Enhancing Facial Harmony: The Barbie Nose Surgery aims to create a nose that beautifully complements your other facial features, enhancing overall facial harmony.
8. Boosting Self-Confidence: A refined and balanced nose can significantly boost your self-confidence, allowing you to feel more comfortable and beautiful in your own skin.
9. Natural-Looking Results: Our goal is to achieve results that appear natural and proportionate, preserving your unique facial identity.
10. Comprehensive Follow-Up: Our team is dedicated to your well-being throughout the healing process, providing support and addressing any concerns you may have.
Is The Surgery Performed Under Anesthesia?
Yes, Barbie Nose Surgery is typically performed under general anesthesia to ensure patient comfort throughout the procedure.
What Is The Recovery Process Like?
After the surgery, patients may experience mild swelling and discomfort, which gradually subside over a few weeks. Our team provides post-operative care instructions to support a smooth recovery.
Are The Results Permanent?
The results of Barbie Nose Surgery are long-lasting. However, the final outcome may continue to refine as the healing process progresses.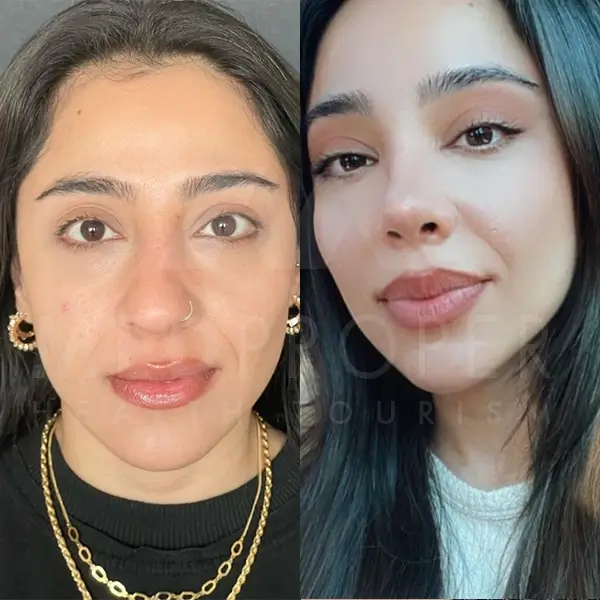 Are There Any Risks Associated With The Surgery?
Like any surgical procedure, there are potential risks involved. Our experienced surgical team takes every precaution to minimize risks and ensure patient safety.
Can I Combine Barbie Nose Surgery With Other Procedures?
Yes, Barbie Nose Surgery can be combined with other facial procedures to achieve comprehensive facial rejuvenation. Discuss your goals with our surgeon to explore your options.
Will There Be Visible Scars?
Our skilled surgeon utilizes advanced techniques to minimize visible scarring. Incisions are strategically placed in inconspicuous areas to ensure discreet results.
How Soon Can I Return To My Daily Activities?
Most patients can return to light activities within a week, although strenuous activities should be avoided for a few weeks to ensure proper healing.
Benefits of Barbie Nose Package
- Refined and harmonious nose appearance
- Enhanced facial aesthetics
- Boosted self-confidence and self-image
- Expert surgical precision for natural-looking results
Elegance Redefined
At Medproper we believe that beauty is an art form, and your nose plays a crucial role in your overall facial aesthetics. Contact us to schedule a consultation and explore how our Barbie Nose Surgery can help you achieve the elegance and confidence you deserve.
Get your dreams come true with Barbie nose!

RHINOPLASTY
What is rhinoplasty surgery, and what can it address?
Am I a good candidate for rhinoplasty?
What happens during the rhinoplasty consultation?
What are the different types of rhinoplasty procedures available?
Is rhinoplasty a painful procedure?
What is the recovery process like after rhinoplasty surgery?
Will I have visible scars after rhinoplasty?
Can rhinoplasty improve my breathing difficulties?
How long will it take to see the final results of rhinoplasty?
What are the risks and potential complications associated with rhinoplasty?
Gallery
Daha iyi bir deneyim için izninizi istiyoruz.
Medproper Heath Tourism olarak kişisel verilerinize önem veriyoruz ve gizilliğinizi korumayı ilke olarak benimsemiş bulunuyoruz. Bu doğrultuda sizinle iletişime geçmek ve analitik çalışmaların yürütülmesi için çerezler kullanmaktayız.