Endoscopic Sinus Surgery for Lasting Sinus Relief
Endoscopic Sinus Surgery for Lasting Sinus Relief
Our package offers a minimally invasive and effective solution for individuals suffering from chronic sinusitis and related sinus conditions.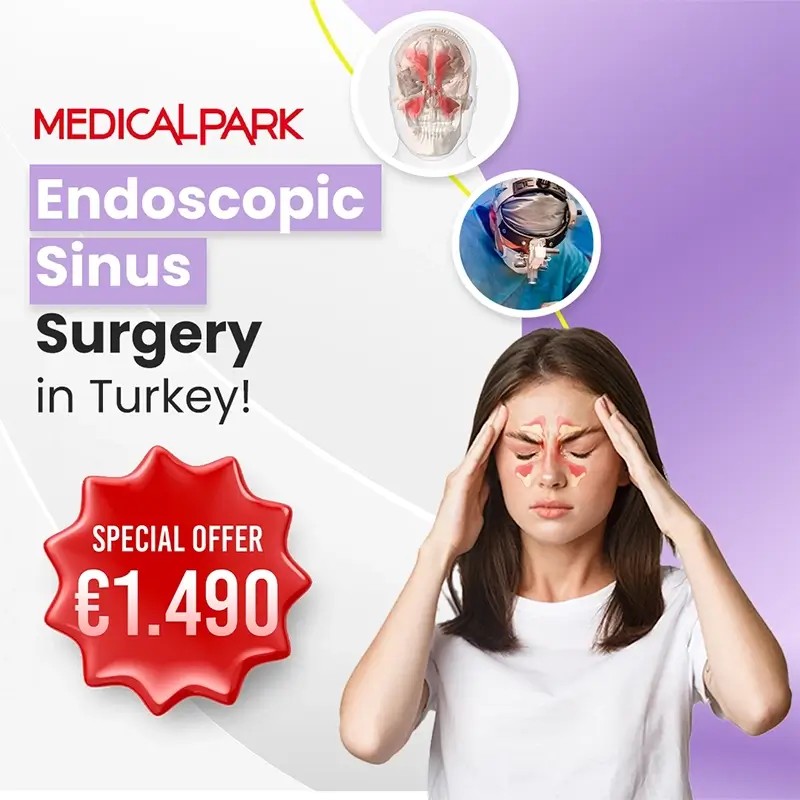 Led by experienced ENT specialists, our package utilizes advanced endoscopic techniques to address sinus blockages, providing lasting relief from congestion, facial pain, and sinus-related symptoms.
What Is Included?
⭑Doctor Fees [Surgeon, Assistant Surgeon, Anesthesiologist]
⭑Operating Room Charges
⭑1 days of Standard room hospitalization for the patient
⭑ENT Examination
⭑Nursing Service Charges, Service Charges
⭑Procedure-related laboratory tests and radiology (Pre-op tests)
⭑Medical equipment and supplies necessary for the procedure
⭑Procedure-related medications
Note: The patient should stay in our Turkey for 4-5 days.
Key Features, Benefits, and Uniqueness
Experienced ENT Specialists
Our Endoscopic Sinus Surgery package is led by skilled ENT specialists with extensive experience in treating sinus conditions. Their expertise ensures precise surgical interventions and improved patient outcomes.
Minimally Invasive Approach
We employ endoscopic techniques, which involve using a thin, flexible tube with a camera (endoscope) to visualize and treat sinus issues. This minimally invasive approach results in less tissue trauma, reduced scarring, and faster recovery compared to traditional sinus surgery.
Customized Treatment Plans
Each patient's sinus condition is unique, and we tailor our surgical approach to address your specific concerns. Our ENT specialists conduct thorough evaluations and diagnostic tests to create a personalized treatment plan.
Sinus Blockage and Polyp Removal
Endoscopic Sinus Surgery effectively removes sinus blockages and nasal polyps, allowing for improved drainage and airflow within the sinuses. This helps alleviate sinus-related symptoms such as congestion, facial pressure, and headaches.
Sinusitis Relief
Our package is designed to provide long-lasting relief from chronic sinusitis, a condition characterized by inflammation of the sinus lining. By addressing the underlying causes of sinusitis, we aim to reduce the frequency and severity of recurrent sinus infections.
Enhanced Quality of Life
Endoscopic Sinus Surgery can lead to improved nasal breathing, reduced snoring, and better sleep quality, resulting in an enhanced overall quality of life.
Rapid Recovery Program
Our comprehensive postoperative care includes a rapid recovery program to promote healing and optimize your recovery process. We prioritize your comfort and aim to get you back to your daily activities as quickly as possible.
Comprehensive Follow-Up Care
After the surgery, our care does not end. We provide ongoing postoperative care and follow-up appointments to monitor your progress and address any concerns.
Patient Education and Counseling
We believe in empowering our patients with knowledge. Our ENT specialists take the time to explain the procedure, potential benefits, and expected outcomes, allowing you to make informed decisions about your care.
Multidisciplinary Approach
Our ENT specialists work collaboratively with other healthcare professionals to ensure comprehensive support throughout your sinus treatment journey. This may include allergy specialists, respiratory therapists, and immunologists, among others.
Take a breath of relief with our Endoscopic Sinus Surgery package, designed to help you breathe freely and enjoy life without the burden of chronic sinus problems. Trust our expert ENT specialists to provide exceptional care, address your sinus concerns, and deliver lasting relief from sinusitis symptoms. Embrace a healthier, happier life with clear and unobstructed sinuses.
ENDOSCOPIC SINUS SURGERY
What is endoscopic sinus surgery, and when is it recommended?
Who is a candidate for endoscopic sinus surgery?
Is endoscopic sinus surgery painful?
How long does endoscopic sinus surgery take?
What is the recovery process like after endoscopic sinus surgery?
Will I have visible scars after endoscopic sinus surgery?
Will endoscopic sinus surgery improve my sense of smell and breathing?
Are there any risks associated with endoscopic sinus surgery?
Can endoscopic sinus surgery be combined with other treatments?
Will my sinus issues return after endoscopic sinus surgery?
Daha iyi bir deneyim için izninizi istiyoruz.
Medproper Heath Tourism olarak kişisel verilerinize önem veriyoruz ve gizilliğinizi korumayı ilke olarak benimsemiş bulunuyoruz. Bu doğrultuda sizinle iletişime geçmek ve analitik çalışmaların yürütülmesi için çerezler kullanmaktayız.