Myomectomy Surgery
What Is Myomectomy? Myomectomy, also known as the surgical removal of uterine leiomyomas or fibroids, is a procedure. The primary goal of myomectomy is to remove the fibroids and restructure the uterus.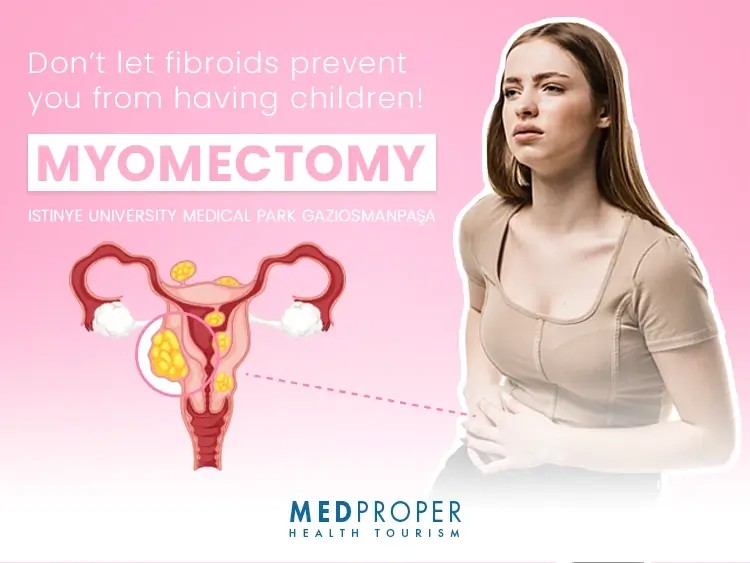 Unlike hysterectomy, the uterus is preserved (hysterectomy involves the complete removal of the uterus, whereas myomectomy only removes the fibroids), thus preserving the woman's reproductive potential.
Myomectomy provides relief from symptoms and improves fertility issues after the procedure.
Uterine fibroids can occur at any age, but they typically develop during the reproductive years.
When Is Myomectomy Performed?
If you are considering having children or do not want your uterus removed and if uterine fibroids are affecting your fertility, you may choose myomectomy instead of hysterectomy with your doctor's recommendation.
What Are The Risks of Myomectomy?
Women with fibroids often have anemia due to severe menstrual bleeding. Therefore, there is a risk of excessive bleeding during the surgery. During myomectomy, doctors can use tourniquets and clamps to block the flow from the uterine arteries or inject medication around the fibroids to seek a solution to prevent excessive bleeding.
Incisions made in the uterus during the surgery can lead to scar tissue formation. Laparoscopic myomectomy causes less scar tissue compared to abdominal myomectomy.
Getting pregnant after myomectomy can result in some risks during childbirth. If a deep incision into the uterus was necessary during the surgery, your obstetrician may recommend a cesarean section to prevent uterine rupture during delivery.
If bleeding during myomectomy cannot be controlled or if additional abnormalities are encountered with the fibroids, hysterectomy may be necessary.
In rare cases, a tumor can be mistaken for a fibroid, which can cause the spread of cancer in later years.
What Is Laparoscopic Myomectomy?
Laparoscopic myomectomy involves removing fibroids through small abdominal incisions. Women who undergo laparoscopy experience less blood loss, shorter hospital stays, and lower risks of postoperative complications.
What Is Abdominal Myomectomy?
Abdominal myomectomy, also known as laparotomy, involves making an open abdominal incision to access the uterus and remove the fibroids.
What Is Hysteroscopic Myomectomy?
It is a method used to remove smaller fibroids. In this method, instruments inserted through the vagina or cervix are used to reach and remove the fibroids.
In cases where large fibroids cannot be removed in one surgery, the hysteroscopic myomectomy continues until they are completely removed.
How Long Does Myomectomy Surgery Take?
General anesthesia is administered during myomectomy. The surgery duration for laparoscopic and abdominal myomectomy is between 1 to 2 hours. For hysteroscopic myomectomy, this time is reduced by half.
Our Myomectomy Prices
The pricing for myomectomy depends on the procedure recommended by your doctor and can range up to €5500.
Fill out the Information Form now to schedule your treatment as soon as possible and take advantage of our benefits!
Daha iyi bir deneyim için izninizi istiyoruz.
Medproper Heath Tourism olarak kişisel verilerinize önem veriyoruz ve gizilliğinizi korumayı ilke olarak benimsemiş bulunuyoruz. Bu doğrultuda sizinle iletişime geçmek ve analitik çalışmaların yürütülmesi için çerezler kullanmaktayız.