All-Inclusive Plastic Surgery Journey
All-Inclusive Plastic Surgery Journey
Our All-Inclusive Plastic Surgery Package is designed to offer a comprehensive and transformative experience by combining multiple procedures.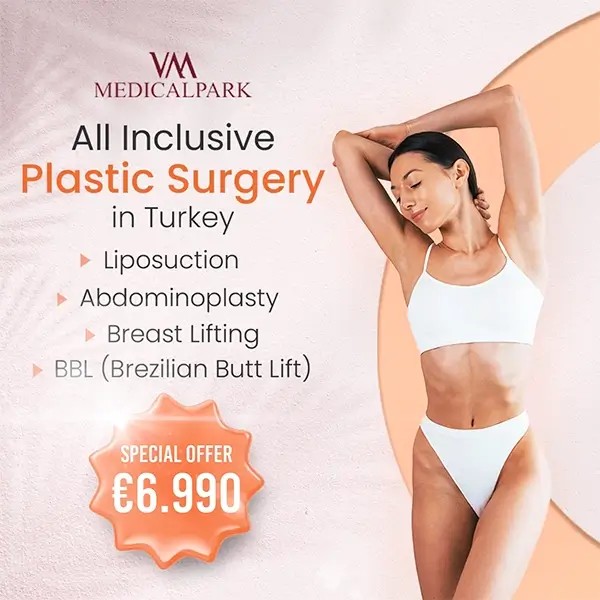 What Is Combination Surgery?
Combination surgeries like this one allows you to improve an area of your body at once instead of addressing one part at a time.
All inclusive one at a time! Click here for free evaluation!
Can Breast Lift and Tummy Tuck Be Done at The Same Time?
It is possible to perform both procedures on you at the same time. By performing a mummy makeover procedure, it offers you the opportunity for total breast and abdomen rejuvenation. This would be ideal if you are looking to reduce excess fat that has built up around your waistline.
This package includes Vaser Liposuction, Abdominoplasty (Tummy Tuck), Breast Lifting, and a Brazilian Butt Lift (BBL) with fat transfer, providing a complete body contouring and rejuvenation solution.
⭑Doctor Fees [Surgeon, Assistant Surgeon, Anesthesiologist]
⭑Operating Room Charges
⭑Plastic Surgery Examination
⭑Nursing Service Charges, Service Charges
⭑2-3 days hospitalization
⭑Procedure-related laboratory tests and radiology (Pre-op tests)
⭑Medical equipment and supplies necessary for the procedure
⭑Procedure-related medications
⭑VIP Transfers from Airport – Hospital – Hotel
Note: Patient will be fit to fly after 7 days from the discharge date.
Total body transformation, combined surgeries are PERFECT!
All-Inclusive Plastic Surgery Package - Procedure Details
Anesthesia: General anesthesia.
Surgical Duration: The total surgical time for the combined procedures will depend on the complexity of each case, but it is generally longer due to the comprehensive nature of the package.
Vaser Liposuction
⭑Tiny incisions are made near the targeted fat deposits.
⭑Ultrasonic energy is used to break down and liquefy fat cells.
⭑A thin cannula is inserted to gently suction out the liquefied fat.
⭑The areas typically treated include the abdomen, thighs, flanks, or other targeted regions.
Abdominoplasty (Tummy Tuck)
⭑A horizontal incision is made along the lower abdomen, usually hidden within the bikini line.
⭑Excess skin is removed, and the remaining skin is redraped for a smoother appearance.
⭑Weak or separated abdominal muscles are tightened and sutured.
⭑The navel may be repositioned to maintain a natural appearance.
Breast Lifting (Mastopexy)
⭑Depending on the degree of sagging, incisions can be around the areola, extending vertically down the breast, and sometimes in the breast crease.
⭑The breast tissue is lifted and reshaped to a more youthful position.
⭑The areola and nipple are repositioned to a higher location on the breast.
⭑Excess skin is removed, and incisions are meticulously closed.
Brazilian Butt Lift (BBL) with Fat Transfer
⭑Excess fat is gently removed from areas like the abdomen, thighs, or flanks through liposuction.
⭑The extracted fat is purified and prepared for transfer.
⭑Purified fat is carefully injected into specific areas of the buttocks to enhance volume and shape.
⭑The surgeon sculpts the buttocks for a balanced and aesthetically pleasing result.
Recovery and Aftercare
⭑After the combined procedures, patients are carefully monitored in the recovery area before being allowed to go home or stay overnight, depending on individual needs.
⭑Postoperative instructions for each procedure will be provided to ensure a smooth recovery.
⭑Patients can expect swelling, bruising, and discomfort, which can be managed with prescribed medications and compression garments.
⭑Follow-up appointments will be scheduled to monitor progress, remove sutures, and provide further guidance.
Performing the Vaser Liposuction, Abdominoplasty, Breast Lifting, and Brazilian Butt Lift in the same surgical session offers the advantage of achieving comprehensive results with fewer overall surgeries. Our experienced surgical team ensures safety, precision, and patient comfort throughout the procedure, resulting in a transformative body contouring experience.
Would you like to meet with your expert plastic surgeon online? FREE OF CHARGE!
What Does Medproper Provide?
Expert Plastic Surgeons
A team of skilled plastic surgeons specializes in advanced body contouring techniques, ensuring exceptional results and patient satisfaction.
Personalized Consultation
Each patient's body is unique, and during a personalized consultation, our surgeons will discuss your goals and design a customized treatment plan tailored to your desires.
Comprehensive Body Contouring
His package addresses various areas of concern, including stubborn fat deposits, loose skin, sagging breasts, and lack of volume in the buttocks, providing a complete transformation.
Advanced Techniques
Our surgeons utilize the latest surgical techniques, including Vaser Liposuction for precise fat removal, Abdominoplasty to restore abdominal firmness, Breast Lifting to enhance breast aesthetics, and Brazilian Butt Lift for a fuller and curvier buttock profile.
Natural-Looking Results
The Brazilian Butt Lift involves transferring your body's own fat to the buttocks, ensuring natural-looking and lasting results without the use of implants.
Enhanced Body Proportions
The combination of procedures is designed to create a balanced and harmonious body silhouette, enhancing your overall body proportions.
Tailored Treatment Plan
Our surgeons will work closely with you to create a personalized treatment plan that addresses your unique anatomy and aesthetic goals.
Minimal Downtime
While recovery times vary, combining procedures can minimize overall downtime, allowing you to achieve your desired results more efficiently
Postoperative Care and Follow-up
Our dedicated team provides thorough postoperative care and follow-up appointments to monitor your progress and address any questions or concerns.
Experience the transformative power of our All-Inclusive Plastic Surgery Package, tailored to your unique needs and aesthetic desires. Trust our experienced plastic surgeons to guide you towards achieving your desired body contours and rejuvenated appearance. Embrace the opportunity to undergo a comprehensive transformation, enhancing your self-confidence and unveiling a more confident and empowered version of yourself.
Certainly, here are the details for the All-Inclusive Plastic Surgery Package, where the four procedures (Vaser Liposuction, Abdominoplasty, Breast Lifting, and Brazilian Butt Lift) are performed in the same surgical session:
CLICK HERE FOR FREE CONSULTATION WITH YOUR SURGEON
At Medproper, we are committed to providing comprehensive information, outstanding care, and exceptional results throughout your All-Inclusive Plastic Surgery journey. If you have more questions or wish to explore the possibilities of this transformative package, we encourage you to schedule a consultation with our skilled plastic surgeons. Embark on a Total Body Transformation and experience the renewed confidence and empowerment that comes with comprehensive body contouring and rejuvenation.
ALL INCLUSIVE PLASTIC SURGERY
What is the All-Inclusive Plastic Surgery Package, and what procedures are included?
Who is an ideal candidate for the All-Inclusive Plastic Surgery Package?
What is the benefit of combining multiple procedures into one package?
How is the treatment plan personalized for each patient?
What is the expected recovery time after the All-Inclusive Plastic Surgery Package?
Will there be visible scarring after the procedures?
Is there an age limit for undergoing the All-Inclusive Plastic Surgery Package?
Can the All-Inclusive Plastic Surgery Package be customized further to include other procedures?
What precautions are taken for patient safety during the All-Inclusive Plastic Surgery Package?
What is the long-term satisfaction rate of patients who undergo the All-Inclusive Plastic Surgery Package?
Will having all four procedures in the same session increase the risks?
How long will the recovery period be for the combined procedures?
Are there any additional risks associated with combining procedures?
Will the surgical scars be more noticeable when multiple procedures are done together?
What is the cost difference between having each procedure separately versus the All-Inclusive Package?
Can I choose not to include one of the procedures in the package?
How can I prepare for the combined procedure session?
Will the results of the combined procedures be permanent?
Can I undergo additional cosmetic procedures later if needed?
How can I learn more and determine if I'm a candidate for the All-Inclusive Plastic Surgery?
Gallery
Daha iyi bir deneyim için izninizi istiyoruz.
Medproper Heath Tourism olarak kişisel verilerinize önem veriyoruz ve gizilliğinizi korumayı ilke olarak benimsemiş bulunuyoruz. Bu doğrultuda sizinle iletişime geçmek ve analitik çalışmaların yürütülmesi için çerezler kullanmaktayız.