Total Body Lifting Package for Post-Weight Loss
Total Body Lifting Package for Post-Weight Loss
Our package offers a comprehensive and transformative journey that addresses sagging skin and excess tissue resulting from rapid weight loss.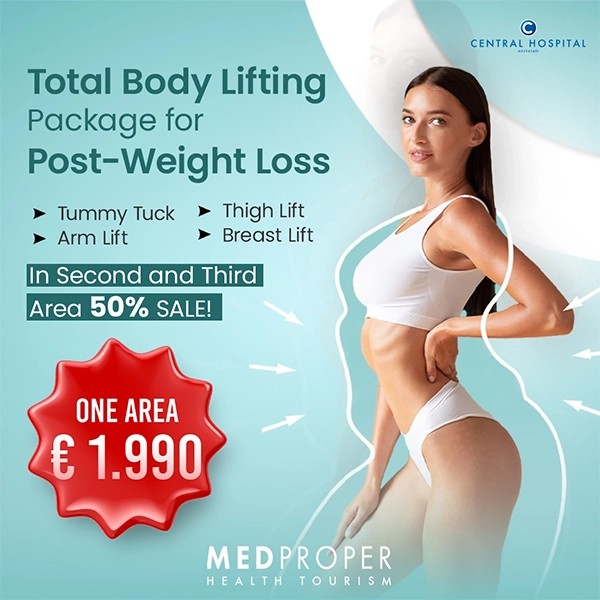 This package includes a series of procedures, each targeting specific areas to sculpt and uplift your entire body, helping you achieve a revitalized appearance that reflects your weight loss achievements.
How Can I Tighten My Skin After Weight Loss?
After dramatical change in your body which happens usually post-weight loss surgeries, cosmetic procedures are one of the fastest solutions for tightening of your sagged body.
TIGHTEN YOUR BODY NOW!
Who Is An Ideal Candidate For Total Body Lifting?
Ideal candidates are individuals who have undergone substantial weight loss and are dealing with excess skin in areas such as the abdomen, arms, thighs, and breasts.
What Is Included?
⭑Doctor Fees [Surgeon, Assistant Surgeon, Anesthesiologist]
⭑Abdominoplasty, Thigh lift and Arm Lift, Breast lifting
⭑Operating Room Charges
⭑2-3 days of hospitalization
⭑Plastic Surgery Examination
⭑Nursing Service Charges, Service Charges
⭑Procedure-related laboratory tests and radiology (Pre-op tests)
⭑Medical equipment and supplies necessary for the procedure
⭑Procedure-related medications
IMPORTANT: Every single surgery cost 2.000 Eur. Extra surgeries will have %50 discounted when it is performed at the same time.
Note: Patient will be fit to fly after 3-4 days from the discharge date.
We prioritize your comfort and privacy, ensuring a supportive and compassionate atmosphere where you can discuss your concerns openly.
What is the Total Body Lifting Package for Post-Weight Loss?
The Total Body Lifting Package is a comprehensive series of procedures designed to address sagging skin and excess tissue resulting from significant weight loss.
CLICK HERE NOW FOR FREE APPOITMENT AND EXAMINATION
How Many Procedures Are Included In The Package?
The package includes four transformative procedures: Abdominoplasty, Arm Lift, Thigh Lift, and Breast Lift.
Can I Choose Which Procedures to Include In My Package?
Yes, our surgical team will work with you to tailor the package to your specific concerns and goals.
Are Total Body Lifting Performed in One Session?
The procedures are typically performed in stages to ensure optimal safety and recovery.
What Is The Expected Downtime After Each Procedure?
Recovery times vary but generally involve returning to light activities within a few weeks and resuming strenuous activities over the course of a few months.
Will I Have Visible Scarring After The Procedures?
Our surgical team employs advanced techniques to minimize scarring and places incisions discreetly to ensure inconspicuous scars.
How Long Will It Take To See The Final Results of The Package?
The time required for full results varies from person to person but generally ranges from a few months to a year.
Can Additional Procedures Be Added To The Package?
Yes, during your consultation, our team can discuss additional procedures that may complement your desired outcome.
Package Details
1. Abdominoplasty (Tummy Tuck)
- Procedure: Excess skin and fat are removed from the abdomen, and weakened abdominal muscles are tightened.
- Benefits: Achieve a flatter and more toned abdominal contour, addressing the common concern of a "pooch."
- Incision: A horizontal incision is made between the hip bones, which can be concealed by clothing or swimwear.
2. Arm Lift (Brachioplasty)
- Procedure: Excess skin is removed from the upper arms, resulting in a firmer and more toned arm appearance.
- Benefits: Say goodbye to "bat wings" and achieve smoother, more youthful-looking arms.
- Incision: Incisions are typically made along the inner arm, from the armpit to the elbow.
3. Thigh Lift
- Procedure: Sagging skin and excess tissue in the thigh area are addressed for firmer and more contoured thighs.
- Benefits: Achieve firmer and sculpted thighs, enhancing your overall lower body silhouette.
- Incision: Incisions may be placed along the inner or outer thigh, tailored to your specific needs.
4. Breast Lift (Mastopexy)
- Procedure: Excess skin is removed, and breast tissue is reshaped for lifted and youthful breasts.
- Benefits: Restore a more youthful breast position and achieve a perkier breast contour.
- Incision: Incisions are made around the areola and may extend vertically or horizontally, depending on the degree of lift needed.
Expected Results of Total Body Lifting
Our Total Body Lifting Package offers a harmonious transformation that includes:
- A flatter and more toned abdomen
- Firmer and smoother upper arms
- Sculpted and rejuvenated thighs
- Lifted and youthful breasts
Recovery Process
Recovery varies for each procedure but generally includes:
- Gradual return to activities over a few weeks
- Discomfort and swelling that can be managed with prescribed medications
- Follow-up appointments to monitor healing progress
Benefits of Total Body Lifting Package
By combining these procedures, our Total Body Lifting Package offers:
- A holistic transformation that targets key areas of concern
- Enhanced body proportions and symmetry
- Renewed self-confidence and a sense of accomplishment
Transformational Journey
At Medproper, our Total Body Lifting Package for Post-Weight Loss is designed to uplift your spirits and your appearance. Contact us to embark on a transformative journey tailored to your unique needs and witness the harmonious transformation of your entire body.
FREE ONLINE CONSULTATION IS AVAILABLE TODAY – CLICK HERE!

TOTAL BODY LIFTING
What are the potential risks and complications associated with these procedures?
How do I prepare for the Total Body Lifting Package?
What kind of anesthesia is used during the procedures?
How can I manage discomfort during the recovery period?
Will I need to stay overnight in the hospital after the procedures?
How do I schedule a consultation for the Total Body Lifting Package?
Is financing available for the package?
How soon can I resume regular exercise after the procedures?
Are the results of the Total Body Lifting Package permanent?
Are the procedures covered by insurance?
Daha iyi bir deneyim için izninizi istiyoruz.
Medproper Heath Tourism olarak kişisel verilerinize önem veriyoruz ve gizilliğinizi korumayı ilke olarak benimsemiş bulunuyoruz. Bu doğrultuda sizinle iletişime geçmek ve analitik çalışmaların yürütülmesi için çerezler kullanmaktayız.