Eye Consultation in Turkey - Medical Park Florya
Eye Consultation in Turkey - Medical Park Florya
Sightseeing Package: See the World Clearly Again with Revolutionary Eye Care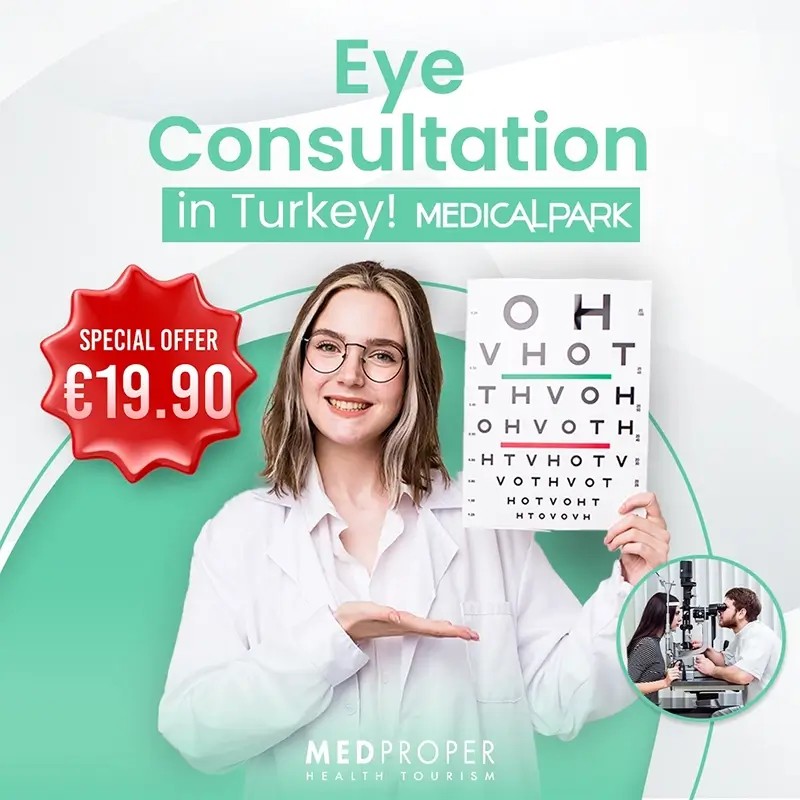 Comprehensive Eye Examinations: Our highly skilled ophthalmologists will conduct a series of comprehensive tests to evaluate your vision and overall eye health. This includes precise measurements of your visual acuity, examination of your eye structures, and assessments for common eye conditions.
State-of-the-Art Equipment: We pride ourselves on utilizing the latest technology in ophthalmology. Our clinics are equipped with advanced diagnostic tools, such as optical coherence tomography (OCT), retinal imaging, and corneal topography. These advanced devices allow for accurate diagnosis and precise treatment planning. These specific medical tests are not included in this package.
Personalized Consultation: After the examinations, our experienced ophthalmologists will provide you with a detailed consultation. They will explain the test results, discuss any existing eye conditions, and offer personalized recommendations tailored to your specific needs. You will have the opportunity to ask questions and gain a comprehensive understanding of your eye health.
Early Detection and Prevention: Our package focuses not only on addressing existing eye conditions but also on early detection and prevention. By identifying potential eye problems at an early stage, we can implement proactive measures to maintain and improve your vision in the long run.
Expert Guidance and Advice: Our ophthalmologists are renowned experts in their field with years of experience. They will guide you through the entire process, providing professional advice and helping you make informed decisions about your eye health.
Convenient and Time-Efficient: We understand the value of your time. Our package is designed to streamline the process, ensuring efficient and timely examinations and consultations. You can expect minimal waiting times and a smooth experience throughout your visit.
By choosing our ophthalmology consultation package, you can rest assured that you will receive top-quality care, access to advanced technology, and personalized attention from our dedicated team of specialists. We are committed to helping you achieve optimal eye health and providing you with a clear vision for a brighter future.
Duration
Our consultations typically last around 20 minutes depending on the complexity of your case and the extent of discussion required.
Treatment Options and Recommendations
Based on the examination results and your specific needs, our ophthalmologist will provide personalized treatment recommendations. This may include suggestions for lifestyle adjustments, eye exercises, prescription glasses or contact lenses, or referrals for further specialized treatments if necessary.
Pricing and Inclusions
The total ophthalmology consultation package price is 19.99 EUR. Package includes hospital service charge, doctor fees, examination and tests including visual acuity, examination of your eye structures, and assessments for common eye conditions.
Selecting Package and Dates
Browse through our website to find the package that best suits your needs and preferences. Once you have chosen your desired package, you can proceed to the booking page.
Online Payment
To secure your booking, we offer a convenient online payment system. Simply use your credit card or debit card to make a payment through our secure payment gateway. Rest assured that your payment details are handled with utmost confidentiality and security.
Confirmation and Booking Details
After a successful payment, you will receive an immediate confirmation of your booking via email. This confirmation will include important details such as the package name, date of booking, and payment receipt.
Appointment Scheduling
Following your booking confirmation, our dedicated consultants will reach out to you personally to assist with scheduling your appointment. They will work with you to find a suitable date and time for your treatment or consultation, taking into consideration your preferences and availability.
Pre-Visit Preparation
Prior to your scheduled appointment, our consultants will guide you through any necessary pre-visit preparations. This may include providing information on pre-treatment instructions, required medical documents, or any specific preparations related to your chosen package.
On-site Check-in
On the day of your appointment, simply arrive at the designated hospital or clinic and check-in at the reception. Our staff will be ready to assist you and ensure a smooth and seamless experience.
Our user-friendly booking process ensures that you can easily select your preferred package, make secure online payments, and receive prompt confirmation of your booking. Our dedicated team is available to provide personalized assistance and guide you through every step of the process, ensuring your journey towards improved health and well-being is as convenient and comfortable as possible.
Visa Requirements:
Before booking our consultation package, please ensure that you have the necessary visa or travel documentation required for entry into Turkey. It is important to check the visa requirements specific to your country of residence and duration of stay. If you require any assistance or support regarding visa information, our consultants are available to provide guidance.
Insurance Coverage
Our consultation package does not typically include insurance coverage. However, we recommend that you review your existing health insurance policy to determine if it covers consultations or treatments abroad. If you have any questions regarding insurance coverage, feel free to reach out to our team for further information.
Cancellation Policy
We understand that circumstances may change, and you may need to cancel or reschedule your consultation. Our cancellation policy allows for cancellations or changes to be made up to 24 hours prior to your scheduled appointment without any penalties. However, please note that a cancellation fee may apply for cancellations made within 24 hours of the appointment.
Refund Procedure
For our consultation package, refunds are not typically provided after 90 days from the first booking date. We recommend that you carefully consider your schedule and availability before making a booking. However, if you have extenuating circumstances or require further information regarding refunds, please reach out to our customer support team. They will review your case and provide you with any applicable options or solutions.
It is important to review and understand the specific visa requirements, insurance coverage, cancellation policies, and refund procedures associated with our consultation package. Should you have any questions or require additional clarification, our team is readily available to assist you throughout the booking process.
Daha iyi bir deneyim için izninizi istiyoruz.
Medproper Heath Tourism olarak kişisel verilerinize önem veriyoruz ve gizilliğinizi korumayı ilke olarak benimsemiş bulunuyoruz. Bu doğrultuda sizinle iletişime geçmek ve analitik çalışmaların yürütülmesi için çerezler kullanmaktayız.