Nutritionist Consultation - Avrasya Hospital
Nutritionist Consultation - Avrasya Hospital
Offers personalized guidance and expert advice from our experienced nutritionists, empowering you to make informed choices for healthier and balanced lifestyle.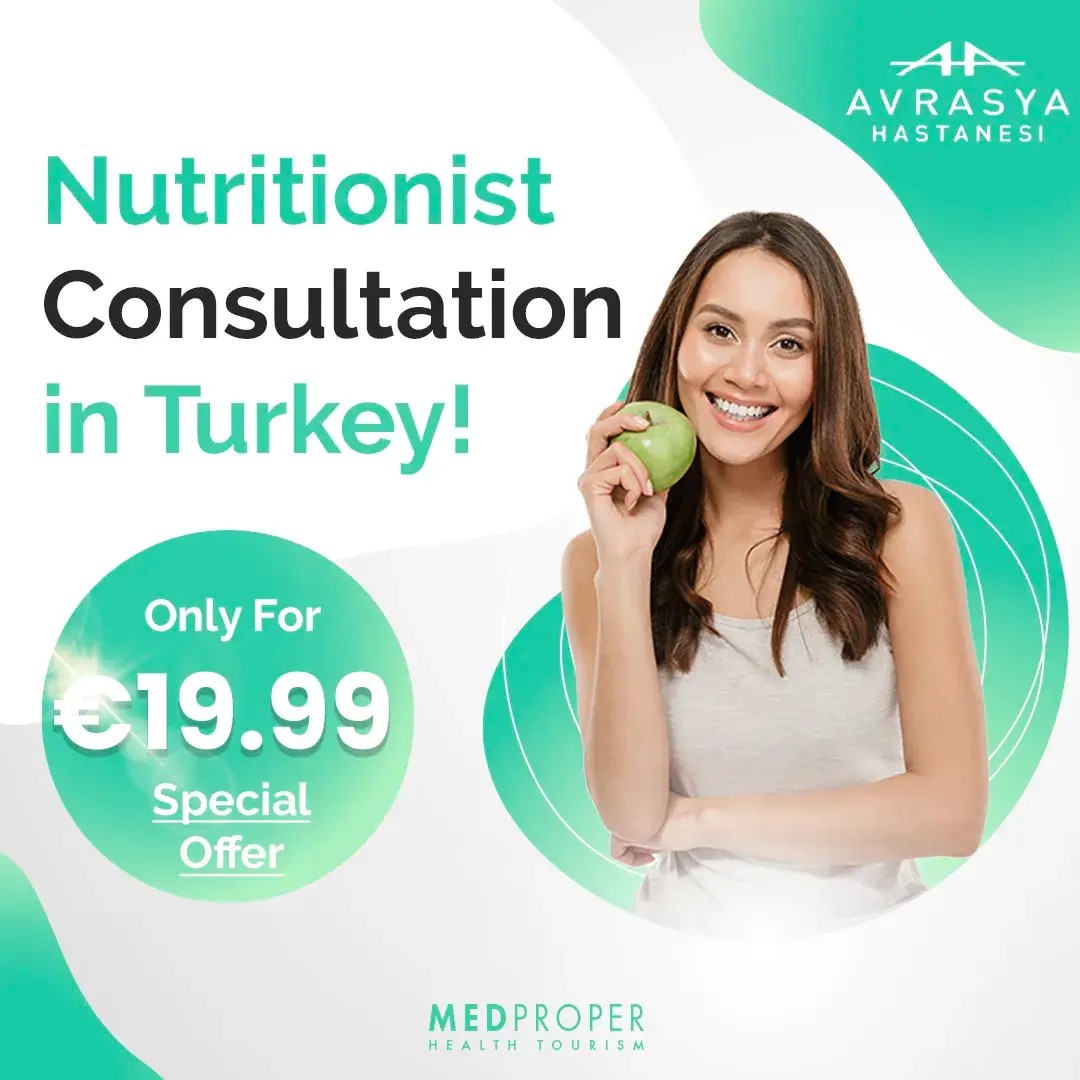 Whether you seek to address specific health concerns, manage weight, or optimize your overall well-being, our nutritionists provide comprehensive assessments, customized meal plans, and ongoing support to help you achieve your nutrition and wellness goals.
Key Features, Benefits, and Uniqueness
Experienced Nutritionists
Our package is led by highly skilled and certified nutritionists who possess extensive experience in various areas of nutrition and dietetics. They are dedicated to supporting you on your wellness journey and are committed to providing evidence-based and practical advice.
Comprehensive Health Assessment
During the initial consultation, our nutritionists will conduct a comprehensive health assessment, including a review of your medical history, dietary habits, lifestyle, and specific nutrition goals. This assessment serves as the foundation for creating a personalized nutrition plan tailored to your unique needs.
Personalized Nutrition Plan
Based on the health assessment, our nutritionists will develop a personalized nutrition plan that aligns with your goals, preferences, and any dietary restrictions or health conditions. The plan may include recommendations for balanced meals, portion control, nutrient-rich foods, and achievable dietary changes.
Weight Management Solutions
If your goal involves weight management, our nutritionists will provide specialized guidance to help you attain and maintain a healthy weight. They will offer strategies for portion control, mindful eating, and building sustainable habits for long-term success.
Specialized Diets and Meal Plans
Our nutritionists are knowledgeable in various specialized diets, such as vegetarian, vegan, gluten-free, and low-carb diets. They can tailor meal plans to accommodate specific dietary preferences or address medical conditions like diabetes, heart disease, or food allergies.
Nutritional Education and Counseling
As part of the package, you will receive valuable nutritional education and counseling sessions to deepen your understanding of healthy eating habits, food choices, and the role of nutrition in supporting your overall health and well-being.
Ongoing Support and Follow-up
We believe in continuous support on your wellness journey. Our nutritionists will conduct follow-up sessions to monitor your progress, provide further guidance, and make adjustments to your nutrition plan as needed.
Wellness for All Ages
Our Nutritionist Consultation Package caters to individuals of all ages, including children, adults, and seniors. We offer specialized nutrition plans to address the unique needs of each life stage.
Integration with Healthcare Professionals
If necessary, our nutritionists collaborate with healthcare professionals, such as doctors or dietitians, to ensure a holistic approach to your health and well-being.
By choosing our Nutritionist Consultation Package, you gain access to the expertise of experienced nutritionists who will provide personalized care, expert evaluation, and effective guidance for your nutrition and wellness goals. We are committed to nourishing your health and empowering you to embrace a balanced and fulfilling lifestyle.
Note: Nutritionist consultations are designed to provide personalized guidance for individuals seeking to improve their nutrition and overall health. The Nutritionist Consultation Package serves as a valuable resource to adopt healthier eating habits, address specific health concerns, and optimize your well-being. Our nutritionists are dedicated to supporting you on your journey to better health through informed and practical nutrition choices.
Daha iyi bir deneyim için izninizi istiyoruz.
Medproper Heath Tourism olarak kişisel verilerinize önem veriyoruz ve gizilliğinizi korumayı ilke olarak benimsemiş bulunuyoruz. Bu doğrultuda sizinle iletişime geçmek ve analitik çalışmaların yürütülmesi için çerezler kullanmaktayız.