Pathology: Remote Pathology Consultation for Precise Diagnostics - Emsey Hospital
Pathology: Remote Pathology Consultation for Precise Diagnostics - Emsey Hospital
Our Pathology Package offers a unique opportunity for patients to access expert pathology consultations from the comfort of their own location.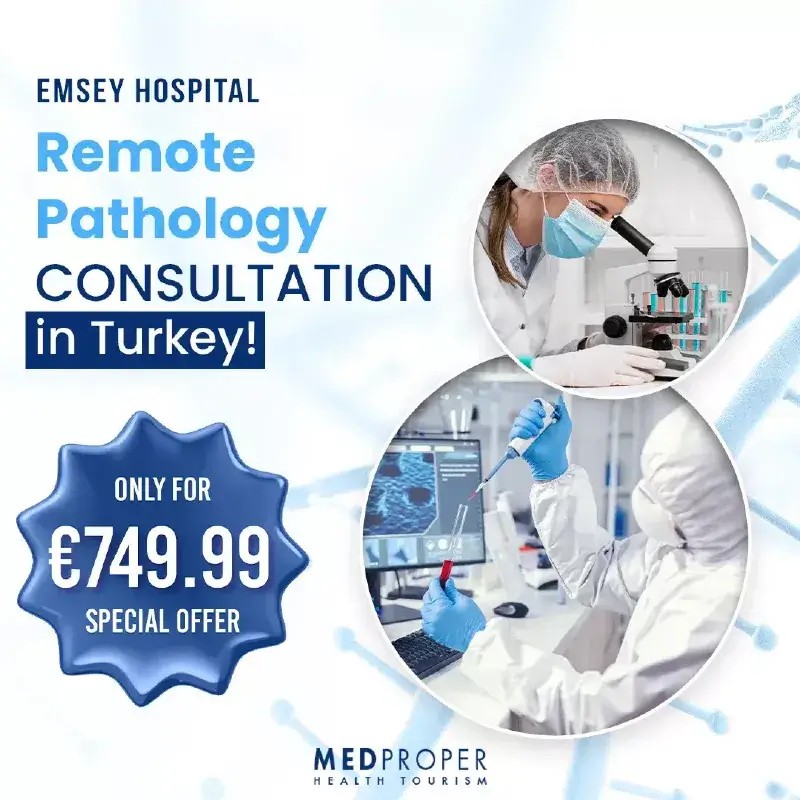 By securely shipping pathology blocks to our collaborated hospital, our team of experienced pathologists can analyse and provide comprehensive diagnostic insights, aiding in the accurate assessment and management of various medical conditions.
Key Features, Benefits, and Uniqueness
Convenient Remote Consultation
With our Pathology Package, there's no need to travel to our collaborated hospital. Instead, patients can conveniently ship their pathology blocks to our facility for analysis and consultation. This eliminates the need for additional travel expenses and saves time, while still providing access to expert pathology services.
Expert Pathology Analysis
Our collaborated hospital boasts a team of highly skilled and experienced pathologists who specialize in a wide range of medical conditions. They will meticulously analyze the pathology blocks, utilizing advanced techniques and technologies to provide accurate and detailed diagnostic insights.
Comprehensive Diagnostic Report
Following the analysis, our pathologists will generate a comprehensive diagnostic report, summarizing their findings, interpretations, and recommendations. The report will be communicated to the patient securely and promptly, ensuring a clear understanding of the pathology results.
Collaboration with Treating Physicians
Our pathologists work in collaboration with the patient's treating physicians to ensure the integration of pathology findings into their overall treatment plan. This collaborative approach aims to optimize patient care and enhance treatment outcomes.
Confidentiality and Privacy
We prioritize patient confidentiality and maintain strict privacy protocols throughout the entire process. All patient information and pathology results are handled with the utmost care and in accordance with privacy regulations to safeguard patient privacy.
With our Pathology Package's remote consultation option, patients can benefit from the expertise of our collaborated hospital's pathologists without the need for travel. By securely shipping their pathology blocks, patients can access precise diagnostics, allowing for accurate disease assessment and appropriate treatment planning, all from the comfort and convenience of their own location.
Note: The results of pathology will be available between 7-10 days. The package price includes normal pathological investigations. Immunohistopathological investigations will be extra charged. Because of the inefficiency pathology blocks that patients provides; examinations may not be investigated. Therefore new biopsy samples will be required upon patients arrival. In that case no refund will be possible. However the biopsy will be charged with %30 discount.
Selecting Package and Dates
Browse through our website to find the package that best suits your needs and preferences. Once you have chosen your desired package, you can proceed to the booking page.
Daha iyi bir deneyim için izninizi istiyoruz.
Medproper Heath Tourism olarak kişisel verilerinize önem veriyoruz ve gizilliğinizi korumayı ilke olarak benimsemiş bulunuyoruz. Bu doğrultuda sizinle iletişime geçmek ve analitik çalışmaların yürütülmesi için çerezler kullanmaktayız.