Obesity is a health problem that occurs as a result of excessive fat accumulation in the body. Obesity is diagnosed when the Body Mass Index (BMI) is above 30. This means that the amount of fat stored in the body exceeds the normal limits for health.
Obesity can occur as a result of the complex interaction of many factors such as genetic factors, eating habits, lack of physical activity, metabolic factors and environmental factors. Genetic predisposition may increase the risk of obesity through family history, but environmental factors are also known to affect this condition. Excessive consumption of high-calorie foods and low physical activity level are among the important factors that pave the way for the development of obesity.
Obesity has serious effects on health. It can increase the risk of a number of diseases such as type 2 diabetes, heart disease, high blood pressure, joint problems and some types of cancer. In addition, obesity can lead to psychosocial problems. Problems such as negative perceptions of one's body image, low self-esteem and depression are common accompanying effects of obesity.
Obesity is an important public health problem and shows an increasing trend worldwide. Therefore, management and prevention of obesity is an important public health priority to protect the health of individuals and improve public health. Healthy eating habits, regular physical activity and conscious lifestyle choices stand out as effective strategies to reduce the risk of obesity.
BMI Calculator
Body Mass Index (BMI or BMI) is a measurement that evaluates a person's weight in relation to their height. You can use the formula below to calculate BMI or click this link.
BMI = Weight (kg) / ( Height (m) * Height (m) )
In this formula, weight must be expressed in kilograms and height in metres. For example, for a person weighing 70 kilograms and if his height is 1.75 metres:
BMI = 70 kg / (1.75 * 1.75)
BMI = 22.86
Causes of Obesity
The main causes of obesity are eating habits, physical activity level and hormonal imbalances. Genetic predisposition, family history and genetic factors have an effect on weight. In addition, factors such as excessive consumption of high-calorie, processed and sugar-containing foods, low physical activity level, stress and emotional eating also play an important role in the development of obesity. Automation, sedentary work and increasing technology brought about by the modern lifestyle are also among the factors that pave the way for obesity. Obesity is a health problem that occurs as a result of a complex interaction of these factors.
What is Morbid Obesity?
Morbid obesity refers to a stage where obesity is the most severe and serious in terms of health. This condition is generally used for individuals with a Body Mass Index (BMI) value above 40. Morbid obesity is characterised by excess fat accumulation, which can lead to serious health problems such as type 2 diabetes, high blood pressure, heart disease, respiratory problems and joint disorders. These individuals may have difficulty maintaining daily activities and often experience a significant decrease in quality of life.
Morbid obesity is a condition that is often difficult to control with diet and lifestyle changes. Therefore, surgical interventions, especially bariatric surgery, are often a preferred option in the treatment of morbid obesity. Surgical procedures such as gastric bypass, sleeve gastrectomy support weight loss by reducing stomach volume or blocking nutrient absorption. Morbid obesity is an important and complex health problem and it is important to be treated by a specialist team.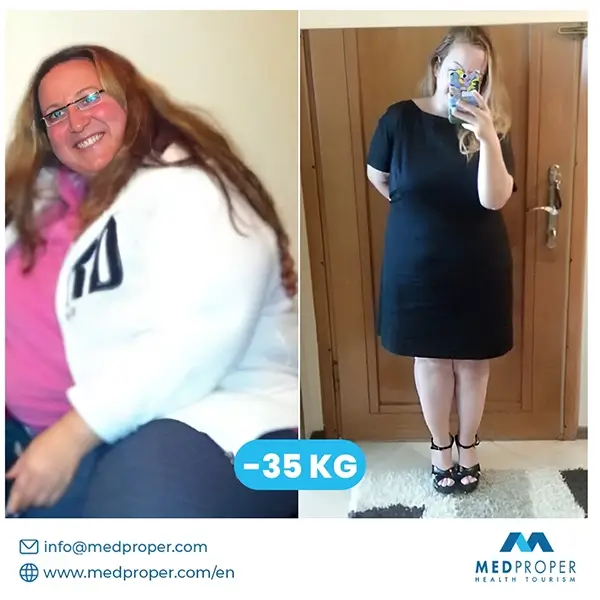 A Patient After Sleeve Gastrectomy Surgery
Obesity Treatment
Obesity treatment is a complex process that often requires a multidisciplinary approach. The treatment plan usually includes lifestyle changes that support weight loss. These changes include adopting healthy eating habits, starting regular physical activity and focusing on psychosocial factors.
A healthy diet is considered a fundamental element in the treatment of obesity. A balanced diet ensures that the body gets the nutrients it needs and controls excessive calorie intake. The control of a specialised dietician is extremely important.
Physical activity plays an important role in reducing the effects of obesity and promoting weight loss. Regular exercise increases calorie burning and strengthens muscle mass.
However, in some cases, surgical intervention may be required for the treatment of obesity. Surgical intervention is an option used in severe obesity conditions that cannot be managed with the methods mentioned above to support weight loss. Surgical interventions usually aim to reduce the individual's stomach volume or limit nutrient absorption to promote weight loss. Two common types of bariatric surgery are performed; gastric bypass and sleeve gastrectomy.
Gastric bypass divides the stomach into a small pocket and a larger part and connects it with the small intestine. In this way, both the stomach volume is reduced and nutrient absorption is limited by bypassing part of the intestines. Sleeve gastrectomy converts the stomach into a smaller and tubular structure, which allows less food intake.
Obesity surgery is performed to accelerate weight loss and improve obesity-related health problems. Surgical interventions are usually considered for individuals with a body mass index (BMI) over 40 or a BMI over 35 but with obesity-related health problems. It is important to regulate the lifestyle and eating habits of the individual before and after surgical intervention to ensure successful and sustainable weight loss.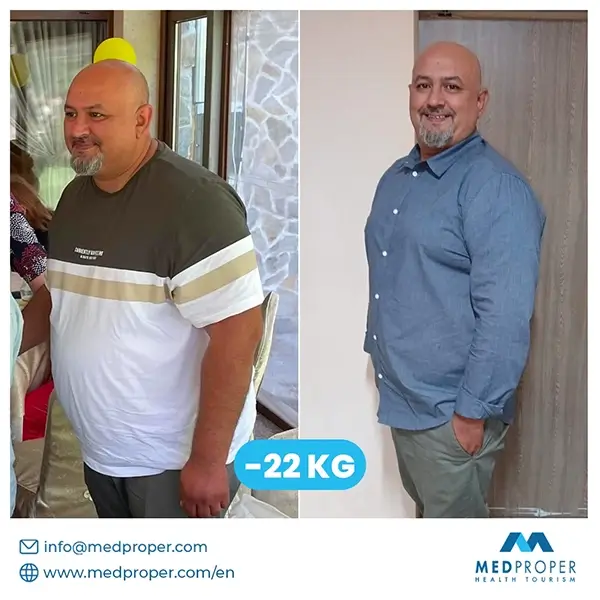 A Patient After Gastric Bypass Surgery
Obesity and Diabetes
There is a close relationship between obesity and diabetes. This relationship arises from the fact that the two health problems can trigger each other and affect each other negatively. Obesity refers to the accumulation of excess fat in the body, which often leads to increased insulin resistance. Insulin resistance refers to a condition in which cells react less to the effects of insulin. While this causes the pancreas to produce more insulin, over time it can cause the pancreas to have difficulty meeting this increased demand and lead to a decrease in insulin production.
Insulin resistance and obesity are important factors contributing to the development of type 2 diabetes. Type 2 diabetes is a condition in which the insulin produced by the body cannot be used effectively or cannot be produced in sufficient amounts. Increased insulin resistance in obese individuals can make it difficult to control blood sugar and increase the risk of type 2 diabetes. On the other hand, obesity in individuals with type 2 diabetes can make the control of blood sugar even more difficult and accelerate the progression of diabetes.
Obesity and Pregnancy
The relationship between obesity and pregnancy includes a number of health problems that may occur during pregnancy. Obesity can have negative effects on both the health of pregnant women and the health of their babies. Obesity can increase the risk of infertility and make the pregnancy process more complicated. Obesity in pregnancy can increase the risk of gestational diabetes, pre-eclampsia (a combination of high blood pressure and kidney problems), birth complications and postnatal infection.
In addition, obesity can affect the development of the baby and increase the risk of obesity after birth. If the mother is overweight or obese during pregnancy, it can lead to excessive weight gain in the baby, birth defects and the risk of future obesity. Therefore, combating obesity is of particular importance before and during pregnancy. Women planning a pregnancy should focus on lifestyle changes such as healthy eating habits and regular exercise to achieve and maintain a healthy weight.
Obesity and Kidney Diseases
Obesity, together with excess fat accumulation in the body, can increase inflammation and trigger metabolic syndrome. This includes factors such as high blood pressure, insulin resistance and dyslipidaemia, which when combined can have adverse effects on the kidneys. Obesity can cause an increased filtration load on the kidneys, which over time can lead to decreased kidney function and chronic kidney disease. In addition, obesity can increase the risk of kidney stone formation.
Obesity in Europe
Obesity is an important public health problem in Europe and its prevalence has been increasing in recent years. Across Europe, obesity rates have increased due to factors such as lifestyle changes, dietary habits and lack of physical activity. This leads to an increase in heart diseases, type 2 diabetes, hypertension and other obesity-related health problems.
Although obesity trends in Europe vary from country to country, they generally show an increasing trend. In developed countries, factors such as increased consumption of processed food, increased sedentary lifestyle due to automation and technological advances contribute to the growth of the obesity epidemic. Health authorities are taking measures to prevent and manage obesity, such as promoting healthy eating habits, increasing physical activity and raising awareness about conscious lifestyle choices. In addition to national health policies, individual efforts and community-based strategies play an important role in the fight against obesity in Europe.
The UK, Hungary and Spain have the highest obesity rates in Europe. For more detail for rates of obesity in Europe, click here.
Obesity is a condition that refers to excessive fat accumulation in the body. Healthy eating and regular exercise are important in the prevention of obesity.