What is Obesity?
Obesity is a health problem that occurs as a result of excessive fat accumulation in the body. Obesity, which is usually assessed using a measure called body mass index (BMI), shows the ratio of an individual's weight to height. BMI is calculated by a formula that divides a person's weight in kilograms by the square of their height in metres. BMI values above 30 indicate obesity.
Obesity can occur as a result of a combination of various factors such as unbalanced diet, sedentary lifestyle, genetic factors and hormonal changes. Being overweight can cause many health problems, including diabetes, heart disease, hypertension, joint problems and respiratory problems. Obesity is an important problem in terms of public health and can negatively affect the quality of life of individuals. A healthy diet, regular exercise and lifestyle changes are important steps to prevent and control obesity.
What are Obesity Treatment Options?
Treatment of obesity requires a personalised approach depending on various factors such as the individual's general health status, age, weight, genetic factors and lifestyle. Obesity treatment is usually carried out by a multidisciplinary team and may include diet, exercise, behavioural changes, medication and surgical options.
In the first stage, special diet programmes can be created by dietitians in order to provide individuals with healthy eating habits. A low-calorie, balanced and nutritious diet can support weight loss. Exercise plays a critical role in the management of obesity. Physical activity can accelerate the weight loss process, increase metabolism and improve overall health.
In some cases, doctors may recommend medication. These medications are usually used to support weight loss and are only considered when efforts to lose weight through diet and exercise are insufficient. However, drug treatment may also include side effects and should be carefully managed. As a last resort, surgical intervention may be considered in cases of morbid obesity. Bariatric surgery involves procedures to reduce stomach volume or limit intestinal absorption and is usually preferred when other treatment options have failed or the patient's health is seriously threatened.
Obesity treatment should be personalised to suit the individual's health status, weight loss goals and lifestyle. Therefore, it is important to collaborate with a specialised healthcare team and adopt sustainable lifestyle changes to ensure long-term success.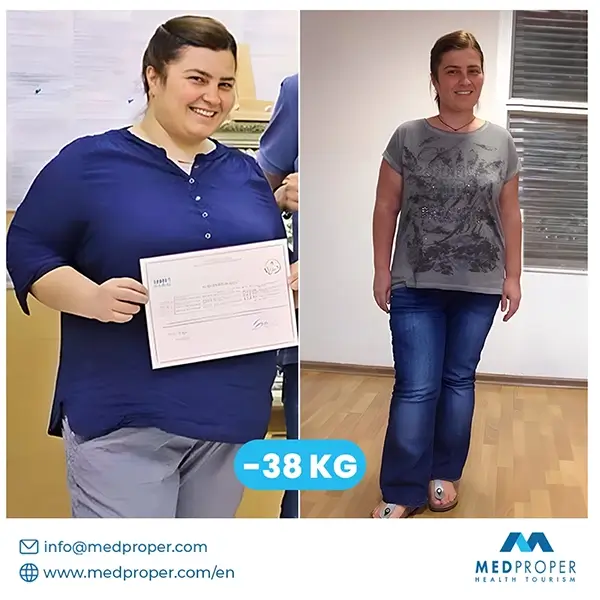 Precautions Against Obesity
Precautions against obesity start with healthy lifestyle choices and conscious eating habits. A balanced and regular diet plays a critical role in keeping body weight under control. Avoiding fast food, sugary drinks and high-calorie snacks supports making more conscious dietary choices.
In addition, regular physical activity is important in obesity prevention. Moderate intensity aerobic exercise for at least 150 minutes per week supports general health and can help with weight control. Avoiding a sedentary lifestyle, including small exercises during the day and making sports a daily routine can reduce the risk of obesity. Information from health professionals and regular health checks can also help individuals take conscious measures against obesity.
Relationship of Obesity with Other Diseases
Obesity is associated with a number of serious health problems and can trigger the development of many chronic diseases. These include type 2 diabetes, heart disease, hypertension, high cholesterol, fatty liver disease, sleep apnoea, joint problems and certain types of cancer. Obesity, together with increased adipose tissue in the body, can increase insulin resistance, which can predispose to the development of type 2 diabetes. It can also increase the burden on the cardiovascular system, increasing the risk of heart disease and hypertension.
Factors such as systemic inflammation caused by obesity, metabolic syndrome and insulin resistance can trigger various inflammatory processes in the body. This may adversely affect the immune system and chronic inflammation may predispose to the development of various types of cancer. In addition, obesity can lead to sleep apnoea, which can reduce sleep quality and affect daytime performance. Joint problems seen in obese individuals usually occur due to the excessive load on the joint surfaces of excess weight.
The association of obesity with other diseases shows that this condition is not only an aesthetic problem, but also has profound and negative effects on general health. Therefore, prevention and treatment of obesity is not only weight control, but also an important step to improve the overall health of the individual.
What is Obesity Surgery?
Obesity surgery is a treatment method that includes surgical interventions applied to ensure long-term weight loss in overweight individuals and to treat obesity-related health problems. These procedures, also called bariatric surgery, are usually considered in cases where weight loss efforts with diet and lifestyle changes are insufficient. Bariatric surgery promotes weight loss by reducing stomach volume or limiting intestinal absorption.
One of the most common bariatric surgery procedures is gastric bypass. This procedure involves reducing the volume of the stomach and altering the intestinal tract. In another method, gastric band surgery, a band is placed around the stomach, which increases the feeling of satiety by limiting the stomach volume. Obesity surgery is usually considered in individuals with severe complications of obesity or health problems related to weight loss. However, such surgical interventions should be carefully evaluated and guided by a specialised healthcare team beforehand.
What is Stomach Bypass?
Gastric bypass is a type of bariatric surgery and is a surgical procedure used to promote long-term weight loss in overweight individuals. During this surgery, the stomach is reduced and the small intestine is rearranged.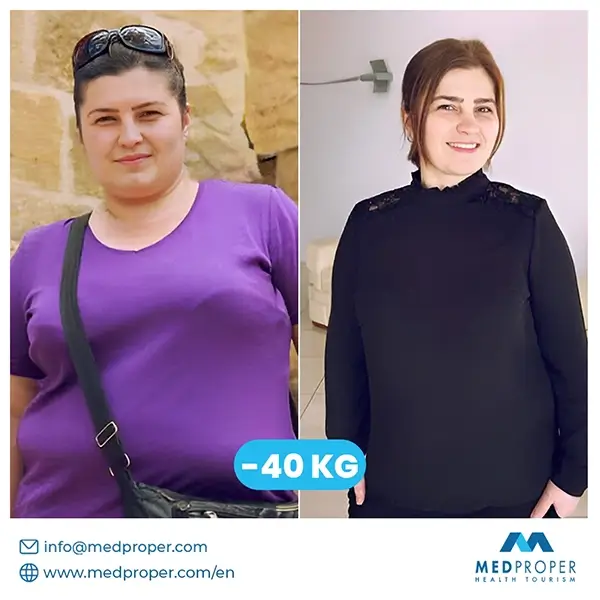 What is Sleeve Gastrectomy?
Sleeve gastrectomy is a type of bariatric surgery and is also known as gastric sleeve or stomach reduction surgery. This procedure is applied to support weight loss in overweight individuals. In sleeve gastrectomy, the volume of the stomach is reduced and a smaller tube-shaped organ is created. During this procedure, some areas that produce hormones in the stomach are also removed.
Sleeve gastrectomy is generally considered a simpler option than more complex bariatric surgical procedures such as gastric bypass surgery. After surgery, individuals are expected to eat less food and therefore lose weight due to the smaller stomach volume. Furthermore, this procedure may also have positive effects on appetite control caused by hormonal changes. However, since sleeve gastrectomy is also a serious surgical intervention, candidates should be carefully evaluated and guided by health professionals. After surgery, it is important for individuals to adapt to diet and lifestyle changes.
Who Can Have Obesity Surgery?
Candidacy for obesity surgery is usually based on certain criteria. Typically, body mass index (BMI) is an important factor in individuals who are considered for surgery. Having a BMI over 40 or over 35 and having serious obesity-related health problems are usually among the eligibility criteria for surgical intervention. In addition, failure of weight loss efforts with diet, exercise and other methods is also a reason to be considered for surgery.
Health problems, especially the presence of obesity-related problems such as type 2 diabetes, hypertension, sleep apnoea and heart diseases are other important factors affecting the candidacy for surgery. The mental health status of individuals is also taken into consideration before surgery; they should be motivated to adapt to diet and lifestyle changes after surgery. Obesity surgeries are usually managed by a multidisciplinary healthcare team, which evaluates the individual's specific condition and creates the most appropriate treatment plan.
How is BMI Calculated?
Body Mass Index (BMI or BMI) is a measurement that evaluates a person's weight in relation to their height. You can use the formula below to calculate BMI:
BMI = Weight (kg) / ( Height (m) * Height (m) )
In this formula, weight must be expressed in kilograms and height in metres. For example, for a person weighing 70 kilograms and if his height is 1.75 metres:
BMI = 70 kg / (1.75 * 1.75)
BMI = 22.86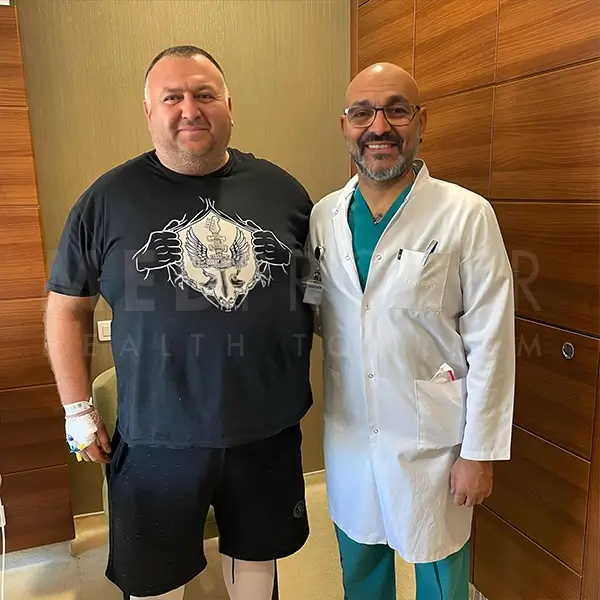 Psychological Effects of Obesity
The psychological effects of obesity can have a significant impact on the individual's body and self-perception. Obese individuals may often have difficulty in adapting to social norms and being accepted. Often, this is associated with low self-esteem and self-esteem. The feeling of not conforming to societal standards of beauty can lead to social isolation, which in turn can lead to psychological problems such as depression and anxiety.
Obesity can also trigger complex emotional relationships related to eating habits, nutrition and body image. Some individuals may tend to overeat in response to their emotional state, creating a vicious cycle that can lead to further progression of obesity. On the other hand, individuals struggling with obesity may be preoccupied with frequent diets and weight loss efforts, which can cause psychological stress and pressure.
Combating obesity involves not only physical health but also mental health. When addressing obesity, it is important that individuals adopt a holistic approach to health and focus on their emotional needs through psychological support, rather than focusing only on weight loss.
Obesity Rates in Europe
Obesity rates in Europe are generally on an increasing trend, with considerable variation between countries. Obesity rates in Europe generally vary from country to country and this is due to many factors. Factors such as dietary habits, physical activity level, genetic factors and socioeconomic status may influence the prevalence of obesity.
Some European countries have low obesity rates, while others have higher rates. Northern European countries generally have lower obesity rates, but obesity rates are generally higher in Southern and Eastern European countries. The fight against obesity in Europe includes various measures such as health policies, public awareness campaigns and healthy living incentives.
Health data sources such as the European Health Information System (EUHIS) are often used to access the most up-to-date data on obesity rates across Europe.
Obesity Surgery Prices in Turkey
Obesity surgery prices in Turkey are quite affordable compared to Europe. Meproper Health Tourism offers advantageous prices between 1500 - 3000 Euros. You can review our treatment packages by clicking here.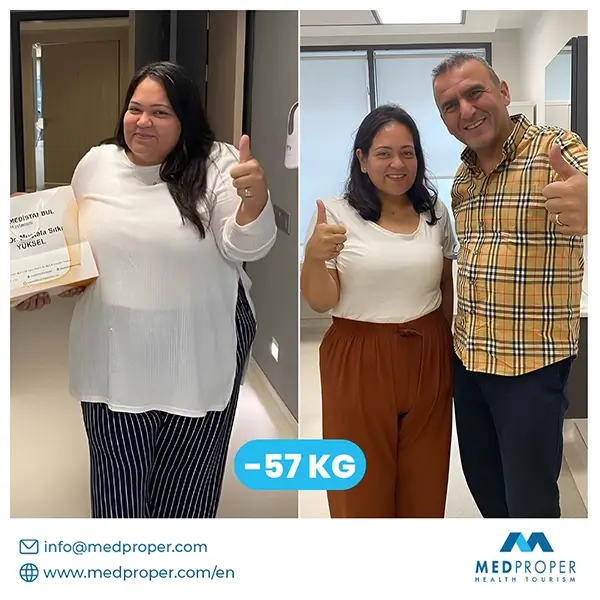 Success Stories and Examples
Senay Özdemir: "For the first time in my life, I have come across a health company that shows such detailed interest. I was very well informed and helped tremendously. If you have a material and moral need, they find the best and the best quality. Thank you very much to everyone."
Jovana L.: "I have had an excellent experience, starting from the agency all the way to the hospital. It was a beautiful experience, and in just one month, I have lost 20 kg."
Shahnoza Mirhamidova: "I faced a health problem and had to seek treatment abroad. Thanks to this company, I was able to have the surgery I needed in Turkey and the results were excellent."
Ayşe Tıpırdamaz: "I came from Germany to have sleeve gastrectomy surgery. My surgery went very well, I was discharged in 3 days. I made the prepayment on the website. The extraordinary interest they exhibit, love, everything is 10/10. I recommend it to everyone."
Victoria Kravchenko: "I paid through their website although I had doubts, but everything went 100 percent well, thank you for everything, I advise you with full confidence."
Vedat Acar: "I had been struggling with weight loss problems for years, after I found you. I would like to thank you for the pre-operative information you provided and for the care and attention of the doctors and other healthcare professionals after the surgery."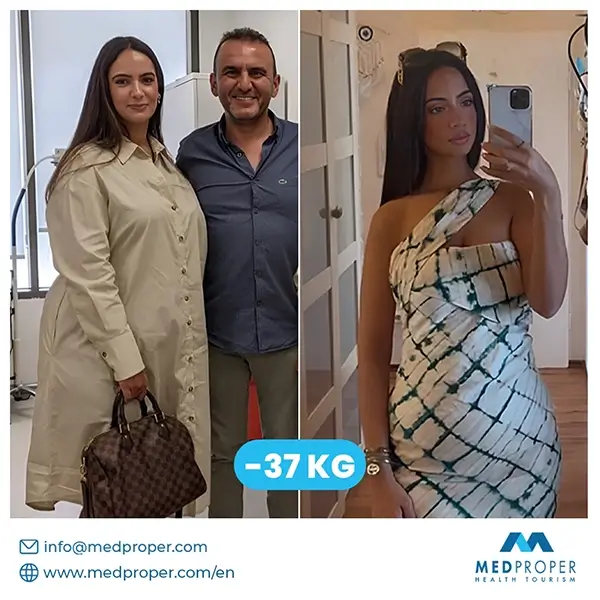 Obesity is characterised by excessive storage of body fat. It can negatively affect health and cause chronic diseases. A healthy diet and regular exercise are among the preventive measures.