Blepharoplasty (Eyelid Surgery)
Blepharoplasty (Eyelid Surgery)
Revitalize your eyes with upper and lower eyelid surgery!
What is Blepharoplasty?
Blepharoplasty, also known as eyelid surgery, is a transformative procedure that rejuvenates the appearance of the eyes by addressing sagging skin, excess fat, and puffiness in the upper and lower eyelids.
FREE ONLINE CONSULTATION IS AVAILABLE
Who Is A Good Candidate For Blepharoplasty?
Good candidates for Blepharoplasty are individuals with drooping eyelids, excess skin or fat in the upper or lower eyelids, and those seeking to achieve a more youthful and rejuvenated appearance around the eyes.
What Is Included?
⭑Doctor Fees [Surgeon, Assistant Surgeon, Anesthesiologist]
⭑Upper Eye Lid Surgery or Lower Eye Lid Surgery
⭑Operating Room Charges
⭑Daily hospitalization
⭑Plastic Surgery Examination
⭑Nursing Service Charges, Service Charges
⭑Procedure-related laboratory tests and radiology (Pre-op tests)
⭑Medical equipment and supplies necessary for the procedure
⭑Procedure-related medications
Note: Patient will be fit to fly after 2-3 days from the discharge date. Blepharoplasty does not require hospitalization and it is operated under local anesthesia.
Upper eyelid surgery cost is 1.100€.
Lower eyelid surgery cost is 1.200€.
If you combine both surgeries at the same time( upper and lower eyelid surgery) total price will be 1.890€.
How Does Blepharoplasty Help Improve The Appearance of The Eyes?
Blepharoplasty can help improve the appearance of the eyes by addressing issues such as drooping eyelids, under-eye bags, puffiness, and wrinkles.
How Is The Procedure Performed?
The procedure involves making discreet incisions in the natural creases of the eyelids. Excess fat, tissue, and skin are then removed or repositioned to achieve the desired aesthetic outcome.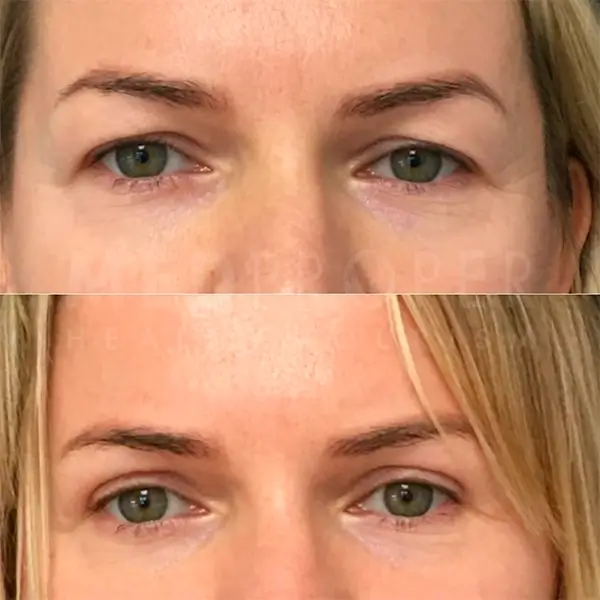 Is Blepharoplasty Performed Under Anesthesia?
Yes, Blepharoplasty is typically performed under local anesthesia with sedation or general anesthesia, ensuring your comfort during the procedure.
Upper Eyelid Surgery
Upper eyelid surgery focuses on correcting drooping eyelids and removing excess skin, which can lead to improved vision and a more youthful appearance.
Procedure Steps
Incision Placement: Tiny incisions are made along the natural creases of the upper eyelids, ensuring minimal scarring.
Fat and Tissue Removal: Excess fat and tissue causing puffiness and drooping are removed or repositioned.
Skin Tightening: Loose skin is carefully excised, resulting in a firmer and smoother upper eyelid contour.
Incision Closure: Incisions are closed with fine sutures, and any scars are discreetly hidden within the natural eyelid creases.
Lower Eyelid Surgery
Lower eyelid surgery targets under-eye bags and wrinkles, restoring a refreshed and more youthful appearance.
Procedure Steps
Incision Placement: Incisions are made either just below the lower lash line or within the lower eyelid, depending on the specific concerns being addressed.
Fat Redistribution: Excess fat causing under-eye bags is either removed or repositioned to create a smoother contour.
Skin Resurfacing: If necessary, the skin is gently tightened to reduce wrinkles and achieve a more rejuvenated look.
Incision Closure: Fine sutures are used to close the incisions, resulting in minimal visible scarring.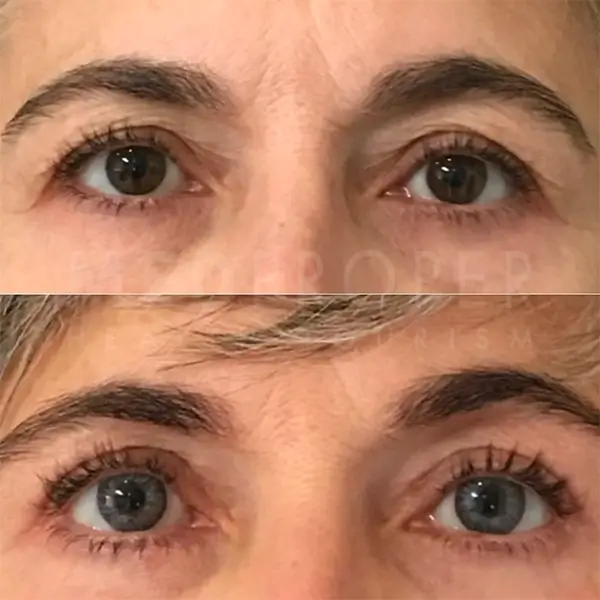 Expected Results of Blepharoplasty
⭑Revitalized and more youthful-looking eyes
⭑Improved vision in the case of drooping upper eyelids
⭑Reduction of under-eye bags and puffiness
⭑Enhanced facial harmony and a refreshed appearance
Recovery Process After Blepharoplasty
⭑Mild discomfort and swelling, managed with prescribed pain medication and cold compresses
⭑Sutures are typically removed within a week
⭑Resuming normal activities within a week, with makeup application allowed after sutures are removed
Benefits of Blepharoplasty
⭑Enhanced self-confidence by addressing visible signs of aging around the eyes
⭑A rejuvenated appearance that can take years off your look
⭑Long-lasting results that contribute to a more youthful facial aesthetic
CLICK HERE - Awaken Your Gaze with Blepharoplasty!
At ISU Medical Park GOP Hospital, our Blepharoplasty procedure offers a tailored solution to restore the youthful vibrancy of your eyes. Contact us to schedule a consultation and explore how this procedure can rejuvenate your appearance.
BLEPHAROPLASTY
Will there be visible scarring after the procedure?
What is the recovery process like?
When can I resume normal activities after Blepharoplasty?
Are the results of Blepharoplasty permanent?
Are there any potential risks or complications associated with the procedure?
How soon can I see the final results of Blepharoplasty?
Can Blepharoplasty be combined with other procedures?
How do I schedule a consultation for Blepharoplasty?
Can I see before-and-after photos of previous Blepharoplasty patients?
What's the first step to achieving a rejuvenated eye appearance with Blepharoplasty?
Gallery
Daha iyi bir deneyim için izninizi istiyoruz.
Medproper Heath Tourism olarak kişisel verilerinize önem veriyoruz ve gizilliğinizi korumayı ilke olarak benimsemiş bulunuyoruz. Bu doğrultuda sizinle iletişime geçmek ve analitik çalışmaların yürütülmesi için çerezler kullanmaktayız.