Abdominoplasty Surgery - Medical Park GOP
Abdominoplasty Surgery - Medical Park GOP
Our package is specially designed to cater to individuals who have undergone significant weight loss through bariatric surgery or other weight loss methods.
With this package, our experienced plastic surgeons provide advanced abdominoplasty procedures to address excess skin and contour the abdominal area, enhancing your body's transformation after significant weight loss.
Sculpting Your New Body
Fill out the form now, don't miss the advantageous price!
What Is Included In Our Package?
⭑Plastic Surgery Examination
⭑Abdominoplasty Operation
⭑Doctor Fees [Surgeon, Assistant Surgeon (if necessary), Anesthesiologist]
⭑Operating Room Charges
⭑2 days of Standard Rooms, Nursing Service Charges, Service Charges
⭑Procedure-related laboratory tests and radiology (Pre-op tests)
⭑Medical equipment and supplies necessary for the procedure
⭑Procedure-related medications
⭑VIP Transfers between Airport-Hotel-Hospital
⭑Translator facilities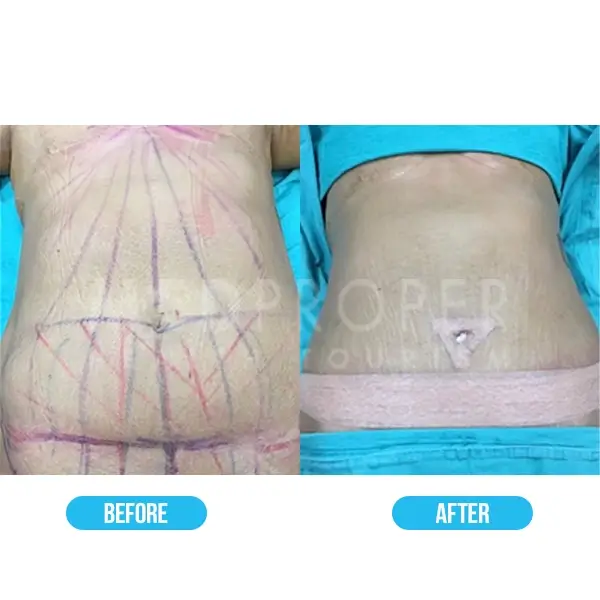 Key Features, Benefits, and Uniqueness
Experienced Plastic Surgeons
Our Abdominoplasty Package is led by skilled and board-certified plastic surgeons with extensive experience in body contouring procedures. They understand the unique needs of post-obesity surgery patients and focus on achieving natural-looking and satisfying results.
Customized Treatment Plans
We recognize that each patient's body is different, and their weight loss journey is unique. Our plastic surgeons create personalized treatment plans tailored to your specific goals, addressing the individual concerns of excess skin and tissue in the abdominal area.
Comprehensive Preoperative Consultation
Before the abdominoplasty procedure, you will have a thorough consultation with our plastic surgeons. They will review your medical history, assess your current health status, and discuss your aesthetic objectives to ensure you are a suitable candidate for the procedure.
Advanced Abdominoplasty Techniques
Our plastic surgeons use advanced abdominoplasty techniques, including full tummy tucks and extended tummy tucks, depending on the extent of excess skin and tissue in the abdominal region. These techniques result in a firmer, flatter, and more toned abdomen.
Safe and State-of-the-Art Facilities
Our hospital is equipped with state-of-the-art surgical facilities and adheres to the highest safety standards. Your abdominoplasty procedure will be performed in a sterile and controlled environment to ensure the best possible outcomes.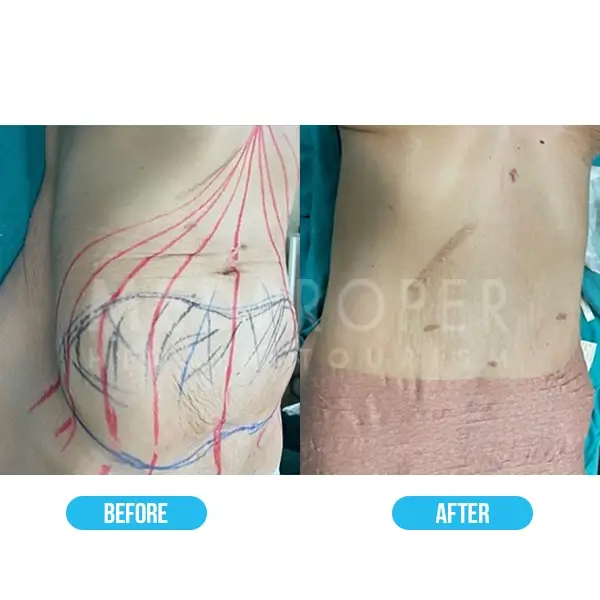 Minimizing Scarring and Incision Placement
Our plastic surgeons carefully plan incision placement to minimize visible scarring and ensure that scars are well-hidden within the natural contours of your body.
Compassionate Postoperative Care
We understand that post-surgery care is vital to your recovery and satisfaction. Our medical team provides compassionate postoperative care and support, ensuring a smooth healing process and addressing any concerns along the way.
Combination Procedures (if appropriate)
For some patients, combination procedures such as liposuction or thigh lift may be recommended to further enhance body contouring results. Our plastic surgeons will discuss these options during the consultation, tailoring the treatment plan to meet your needs.
Improved Confidence and Body Image
Abdominoplasty for post-obesity surgery patients can significantly enhance body confidence and self-esteem. By addressing loose skin and improving abdominal contours, our goal is to help you feel more comfortable and confident in your transformed body.
Continued Support and Follow-Up
Our support doesn't end with the procedure. We provide ongoing follow-up care to monitor your progress and ensure your satisfaction with the results. Our dedicated team is always available to address any questions or concerns you may have.
By choosing our Abdominoplasty for Post-Obesity Surgery Patients Package, you entrust your body to expert hands committed to sculpting and refining your new physique, making your weight loss journey even more rewarding and fulfilling.
Note: The Abdominoplasty Package for Post-Obesity Surgery Patients focuses on body contouring for individuals who have undergone significant weight loss through bariatric surgery or other weight loss methods. Our plastic surgeons use advanced techniques to address excess skin and tissue in the abdominal area, providing a sculpted and toned appearance. We are dedicated to ensuring your safety, comfort, and satisfaction throughout the abdominoplasty journey.
ABDOMINOPLASTY
What is abdominoplasty, and who is a suitable candidate for the procedure?
How is abdominoplasty different for post-obesity surgery patients compared to other patients?
Is weight loss required before undergoing abdominoplasty?
What does the abdominoplasty procedure entail?
How long does the recovery period typically last after abdominoplasty?
Will there be visible scarring after the procedure?
Can abdominoplasty be combined with other procedures?
Will I be required to stay in the hospital overnight after the procedure?
Are there any risks associated with abdominoplasty for post-obesity surgery patients?
Will I need to wear a compression garment after the procedure?
Daha iyi bir deneyim için izninizi istiyoruz.
Medproper Heath Tourism olarak kişisel verilerinize önem veriyoruz ve gizilliğinizi korumayı ilke olarak benimsemiş bulunuyoruz. Bu doğrultuda sizinle iletişime geçmek ve analitik çalışmaların yürütülmesi için çerezler kullanmaktayız.