Vaser Liposuction + Tummy Tuck Surgery for a Defined Silhouette
Vaser Liposuction + Tummy Tuck Surgery for a Defined Silhouette
Our Vaser Liposuction + Tummy Tuck Surgery package offers a powerful combination to achieve a sculpted and toned physique.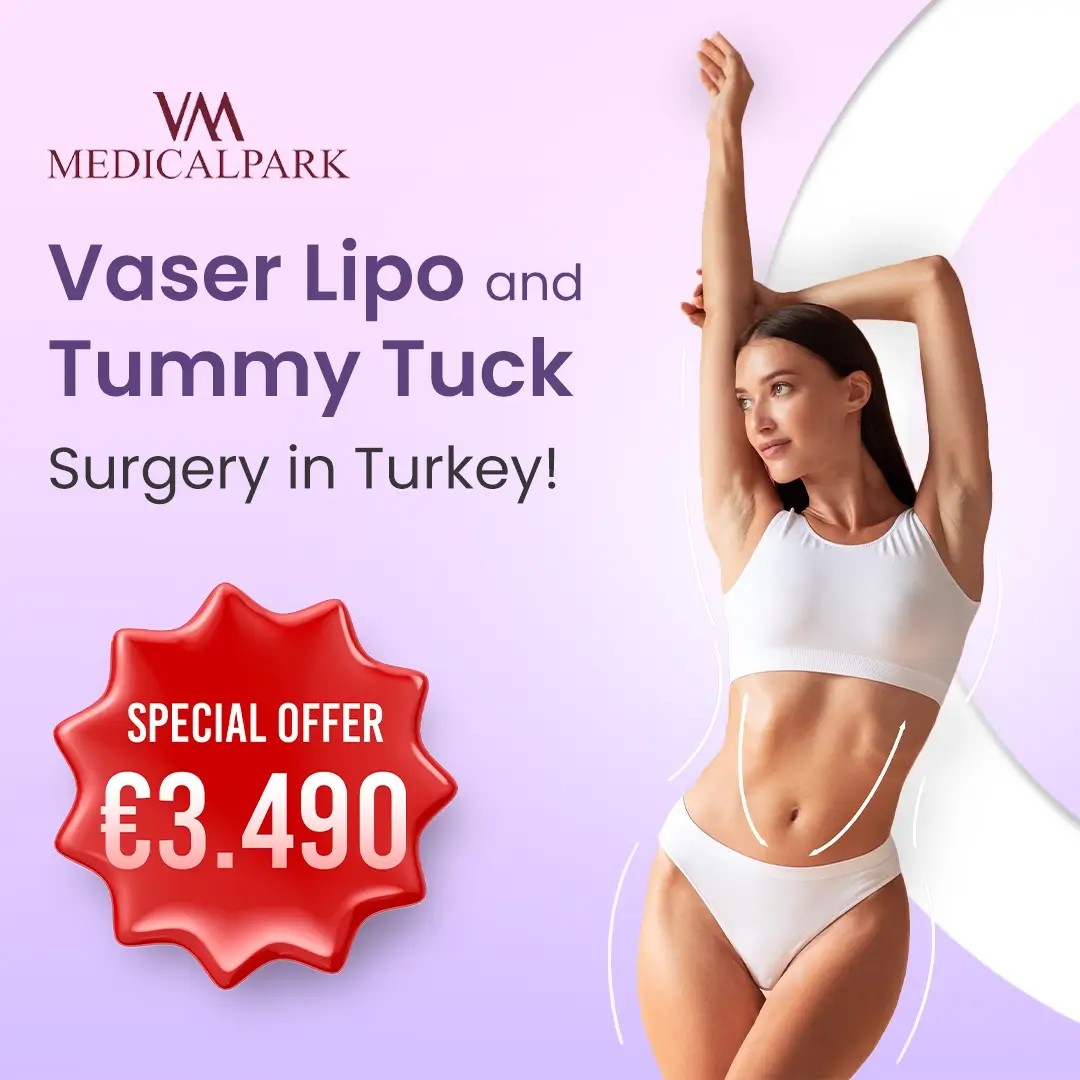 This comprehensive body contouring package combines the benefits of Vaser liposuction, a minimally invasive technique to remove stubborn fat deposits, with the transformative effects of tummy tuck surgery to address excess skin and muscle laxity in the abdominal area.
What Is Included?
★ Doctor Fees [Surgeon, Assistant Surgeon, Anesthesiologist]
★ Operating Room Charges
★ 1-2 days of Standard room hospitalization for the patient
★ Plastic Surgery Examination
★ Nursing Service Charges, Service Charges
★ Procedure-related laboratory tests and radiology (Pre-op tests)
★ Medical equipment and supplies necessary for the procedure
★ Procedure-related medications
★ VIP Transfer between Airport - Hotel – Hospital.
Note: The patient should stay in Turkey for 7 days.
Key Features, Benefits, and Uniqueness
Comprehensive Body Contouring
The Vaser Liposuction + Tummy Tuck Surgery package provides comprehensive body contouring, effectively removing unwanted fat and excess skin while enhancing muscle definition for a well-proportioned silhouette.
Experienced Plastic Surgeons
Our skilled plastic surgeons have extensive experience in both Vaser liposuction and tummy tuck procedures. Their expertise ensures exceptional results and patient satisfaction.
Personalized Treatment Plan
Each patient's body is unique, and we offer personalized consultations to understand your specific goals. Our surgeons will create a customized treatment plan tailored to your desired outcome.
Advanced Vaser Liposuction Technology
Vaser liposuction utilizes ultrasound energy to gently and precisely target and remove unwanted fat, promoting smoother and more even results compared to traditional liposuction.
Enhanced Abdominal Contour
The combination of Vaser liposuction and tummy tuck surgery allows for precise contouring of the waistline, addressing love handles and abdominal bulges for a defined and sculpted appearance.
Tightened Abdominal Muscles
Tummy tuck surgery includes muscle tightening to restore core strength and create a firmer abdominal profile, especially beneficial for individuals with diastasis recti.
Reduced Downtime
Vaser liposuction is minimally invasive, resulting in shorter downtime and faster recovery compared to traditional liposuction techniques.
Scar Placement and Management
Our plastic surgeons take great care in placing tummy tuck incisions discreetly to minimize visible scarring. We also provide scar management techniques to promote optimal healing.
Boosted Self-Confidence
Achieving a sculpted and toned physique can significantly enhance your self-confidence and body image, allowing you to feel comfortable and proud of your appearance.
Long-Term Satisfaction
Both Vaser liposuction and tummy tuck surgery provide long-lasting results, especially when combined with a healthy lifestyle and regular exercise routine.
Comprehensive Preoperative Counseling
Our dedicated team ensures you are well-prepared for the combined procedure, providing detailed preoperative counseling and addressing any questions or concerns.
Supportive Recovery Environment
Your comfort and well-being are our priorities. Our facility is equipped with state-of-the-art amenities, and our caring team will support you throughout your recovery journey.
Embrace the transformative power of our Vaser Liposuction + Tummy Tuck Surgery package and sculpt your way to a more defined and contoured physique. Trust our experienced plastic surgeons to guide you towards achieving your body goals, enhancing your confidence, and unveiling a sculpted version of yourself. Discover the possibilities of combining Vaser liposuction and tummy tuck surgery for a sculpted and toned silhouette you'll love.
VASER LIPOSUCTION + TUMMY TUCK
What is Vaser liposuction, and how does it differ from traditional liposuction?
Who is a suitable candidate for the Vaser Liposuction + Tummy Tuck Surgery package?
Is the Vaser liposuction procedure painful?
What is the recovery process like after Vaser liposuction + tummy tuck surgery?
Will there be visible scarring after the tummy tuck procedure?
How soon will I see results after the combined procedure?
Can I combine other procedures with Vaser liposuction and tummy tuck surgery?
Are there any risks associated with the Vaser Liposuction + Tummy Tuck Surgery package?
Can I have more children after undergoing the combined procedure?
How long will the results of Vaser liposuction and tummy tuck surgery last?
Daha iyi bir deneyim için izninizi istiyoruz.
Medproper Heath Tourism olarak kişisel verilerinize önem veriyoruz ve gizilliğinizi korumayı ilke olarak benimsemiş bulunuyoruz. Bu doğrultuda sizinle iletişime geçmek ve analitik çalışmaların yürütülmesi için çerezler kullanmaktayız.