General Surgery (Bariatric) Consultation - Avrasya Hospital
General Surgery (Bariatric) Consultation - Avrasya Hospital
Our General Surgery Consultation Package offers expert evaluation and comprehensive care for individuals seeking assessment and guidance in bariatric surgeries.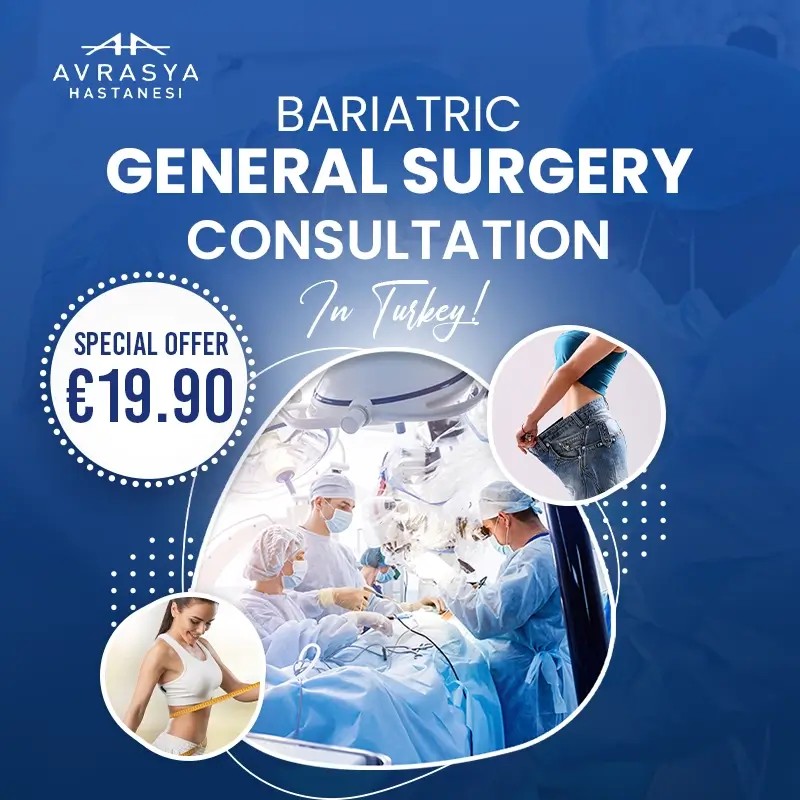 With the expertise of our experienced general surgeons specializing in bariatric procedures, we provide thorough consultations, diagnostic assessments, and personalized treatment plans to address your weight management goals with compassion and precision.
Key Features, Benefits, and Uniqueness
Experienced Bariatric Surgeons
Our package is led by highly skilled and board-certified general surgeons with specialized expertise in bariatric surgeries. They possess extensive experience in performing weight loss procedures and are dedicated to providing exceptional care and support throughout your weight management journey.
Comprehensive Consultation and Evaluation
During the consultation, our bariatric surgeons will take the time to understand your medical history, assess your weight management goals, and conduct a detailed physical examination. They will discuss your weight-related concerns and conduct any necessary diagnostic tests to determine the most suitable bariatric procedure for your specific needs.
Personalized Treatment Plan
Based on the evaluation and assessment, our bariatric surgeons will develop a personalized treatment plan tailored specifically to your weight management goals. This may include recommendations for various bariatric procedures, such as gastric bypass, sleeve gastrectomy, or adjustable gastric banding, depending on your unique situation.
Comprehensive Bariatric Procedures
Our General Surgery Consultation Package covers a range of bariatric procedures, each designed to promote sustainable weight loss and improve overall health. Procedures may include but are not limited to:
- Gastric Bypass: A surgical technique that reroutes the digestive tract, reducing the amount of food you can consume and absorb.
- Sleeve Gastrectomy: A procedure that removes a portion of the stomach, creating a smaller, banana-shaped pouch, leading to reduced food intake and appetite.
- Adjustable Gastric Banding: Placement of a band around the upper part of the stomach to restrict food consumption, which can be adjusted as needed.
- Biliopancreatic Diversion with Duodenal Switch (BPD/DS): A complex procedure that involves both restriction and malabsorption of nutrients for significant weight loss.
Supportive Pre and Post-Operative Care
Our bariatric surgeons and support team provide comprehensive pre and post-operative care to ensure the success of your weight loss journey. This includes nutritional counseling, lifestyle modifications, and ongoing follow-up appointments to monitor your progress and address any concerns.
Improved Quality of Life
Bariatric procedures have been shown to significantly improve quality of life for individuals struggling with obesity and related health conditions. Weight loss achieved through bariatric surgery can lead to enhanced mobility, reduced reliance on medications, and decreased risks of obesity-related diseases.
Multidisciplinary Approach
Our bariatric surgeons work closely with a multidisciplinary team of nutritionists, dietitians, and psychologists to provide holistic care, addressing both the physical and emotional aspects of weight management.
By choosing our General Surgery Consultation Package, you gain access to the expertise of experienced bariatric surgeons who will provide personalized care, expert evaluation, and effective treatment options for your weight management goals. We are committed to supporting you on your journey towards a healthier and more fulfilling life.
Note: Bariatric surgeries are intended for individuals struggling with obesity and related health conditions. Our General Surgery Consultation Package serves as a valuable resource to explore bariatric procedures and receive expert guidance on achieving sustainable weight loss. Patients are encouraged to consult with our bariatric surgeons to determine the most suitable bariatric procedure for their specific weight management needs and health conditions.
Online Payment
To secure your booking, we offer a convenient online payment system. Simply use your credit card or debit card to make a payment through our secure payment gateway. Rest assured that your payment details are handled with utmost confidentiality and security.
Confirmation and Booking Details
After a successful payment, you will receive an immediate confirmation of your booking via email. This confirmation will include important details such as the package name, date of booking, and payment receipt.
Appointment Scheduling
Following your booking confirmation, our dedicated consultants will reach out to you personally to assist with scheduling your appointment. They will work with you to find a suitable date and time for your treatment or consultation, taking into consideration your preferences and availability.
Pre-Visit Preparation
Prior to your scheduled appointment, our consultants will guide you through any necessary pre-visit preparations. This may include providing information on pre-treatment instructions, required medical documents, or any specific preparations related to your chosen package.
On-site Check-in
On the day of your appointment, simply arrive at the designated hospital or clinic and check-in at the reception. Our staff will be ready to assist you and ensure a smooth and seamless experience.
Our user-friendly booking process ensures that you can easily select your preferred package, make secure online payments, and receive prompt confirmation of your booking. Our dedicated team is available to provide personalized assistance and guide you through every step of the process, ensuring your journey towards improved health and well-being is as convenient and comfortable as possible.
Visa Requirements
Before booking our consultation package, please ensure that you have the necessary visa or travel documentation required for entry into Turkey. It is important to check the visa requirements specific to your country of residence and duration of stay. If you require any assistance or support regarding visa information, our consultants are available to provide guidance.
Insurance Coverage
Our consultation package does not typically include insurance coverage. However, we recommend that you review your existing health insurance policy to determine if it covers consultations or treatments abroad. If you have any questions regarding insurance coverage, feel free to reach out to our team for further information.
Cancellation Policy
We understand that circumstances may change, and you may need to cancel or reschedule your consultation. Our cancellation policy allows for cancellations or changes to be made up to 24 hours prior to your scheduled appointment without any penalties. However, please note that a cancellation fee may apply for cancellations made within 24 hours of the appointment.
Refund Procedure
For our consultation package, refunds are not typically provided after 90 days from the first booking date. We recommend that you carefully consider your schedule and availability before making a booking. However, if you have extenuating circumstances or require further information regarding refunds, please reach out to our customer support team. They will review your case and provide you with any applicable options or solutions.
It is important to review and understand the specific visa requirements, insurance coverage, cancellation policies, and refund procedures associated with our consultation package. Should you have any questions or require additional clarification, our team is readily available to assist you throughout the booking process.
Daha iyi bir deneyim için izninizi istiyoruz.
Medproper Heath Tourism olarak kişisel verilerinize önem veriyoruz ve gizilliğinizi korumayı ilke olarak benimsemiş bulunuyoruz. Bu doğrultuda sizinle iletişime geçmek ve analitik çalışmaların yürütülmesi için çerezler kullanmaktayız.