Hair Transplant in Turkey (DHI) - Medistanbul Hospital
Hair Transplant in Turkey (DHI) - Medistanbul Hospital
Hair Loss is one of the most undesirable problem that humans are facing. Everyone may have such a problem and hair is absolutely a key role for a beautiful look.
In that case; people immediately look for possible solutions, trying to stop current hair loss with numerous creams, shampoos, vitamins etc. However, sometimes in the very late stage of hair loss when baldness area is enlarged, the only solution comes to mind is Hair Transplant.
Hair Transplant is performed with two different technics depending on the individual's current stiuation and their wishes.
In order to become a real candidate for Hair Transplant;
-Patient may have baldness area or hair may have less density or no density at all.
-Patient is older than 18 years old,more suitable to be at least 25 years old.
-Patient has a good donor area.
How Hair Transplantation is Performed?
What is DHI (Direct Hair Transplantation) Hair Transplantation?
-It became popular technique in 2016. It is known as channelless hair transplantation technique.
-In this method, grafts are placed in special pens called choi pens.
-The grafts taken into the planting area are placed under the skin by pressing and rotating the choi pens by giving them an angle, direction and depth.
-It is similar to a stylus pen and when pressed on top, the hair follicle is placed under the skin.
-The channel is not opened prior to transplanting the grafts. Hair transplantation and grooving are performed at the same time.
-After determining the angle and direction of the special pens which are placed in the graft, the pen pushed into the tissue.
Advantages of The DHI Technique
Allows for more frequent placement of grafts.
The grafts attached to the tip of the pen are easily given direction close to nature. This provides a more natural look. Hair transplantation is done without damaging the existing hair of the person.Since the grafts remained outside for a shorter period of time; transplanting success is greater.Since the channel is not opened; Scaling of the hair observed after the operation lasts only 5-6 days. Since there is no channel opening phase, recovery time is faster.
Before Hair Transplant Surgery
Consultation
Schedule a consultation with a reputable hair transplant surgeon to discuss your goals, expectations, and assess your suitability for the procedure.
Medical Evaluation
Undergo a comprehensive medical evaluation to ensure you are in good health and do not have any conditions that may interfere with the surgery or recovery.
Follow Pre-Operative Instructions
Your surgeon will provide specific pre-operative instructions that may include avoiding certain medications, avoiding alcohol consumption, and stopping smoking, if applicable. Follow these instructions carefully.
Arrange Transportation
On the day of surgery, arrange for someone to drive you to and from the clinic as you may be given medication that could impair your ability to drive.
Comfortable Clothing
Wear loose-fitting, comfortable clothing that can be easily removed and won't touch the transplanted area during the procedure.
Arrange for Time Off
Plan for some time off work or other activities to allow for proper rest and recovery post-surgery.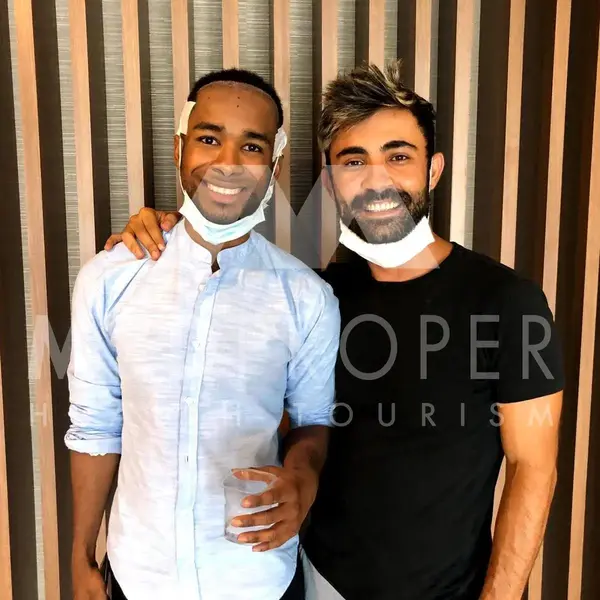 After Hair Transplant Surgery
Your surgeon will provide detailed post-operative instructions. It is essential to follow them carefully to ensure proper healing and optimal results.
Medication
Take prescribed medications, such as pain relievers, antibiotics, and any other medications as instructed by your surgeon.
Protect the Transplanted Area
Avoid touching or rubbing the transplanted area to prevent dislodging grafts. It's recommended to wear a loose-fitting hat or a protective headband provided by your surgeon.
Sleep Position
Sleep with your head elevated for the first few nights to minimize swelling. Your surgeon may recommend specific sleeping positions.
Avoid Physical Activity
Avoid strenuous activities, heavy lifting, and exercise for a few weeks after the surgery to prevent complications and promote healing.
Gentle Hair Washing
Your surgeon will provide instructions on when and how to wash your hair post-surgery. Use a gentle shampoo and avoid vigorous scrubbing.
Protect from Sun and Dust
Avoid direct sun exposure and protect your head from dust, pollutants, and other harmful elements during the initial healing phase.
Follow-up Appointments
Attend all scheduled follow-up appointments with your surgeon to monitor progress, address any concerns, and remove any sutures, if necessary.
How Can Hair Transplant Change Your Life?
Hair is one of the biggest factors in human appearance. So much so that hair loss can lead to problems such as unhappiness and lack of self-confidence in people. However, in today's world, people can regain their lost self-confidence with hair transplantation. This makes them feel more attractive, beautiful or handsome. Hair loss, of course, is not such a bad thing. However, studies show the negative impact of this on human life.
Turkey is one of the most popular destinations for hair transplantation. Estimated that nearly 1,500 hair transplantation surgeries are performed across the country every day.
Affordable Prices, High-Quality Service
Besides the affordable prices, Turkey has very experience in the hair transplantation sector.
Cost of The Hair Transplantation
The cost of hair transplantation between 5.000 and 20.000 US Dollars lots of countries. But in Turkey, in Medproper Health Tourism, the cost is just 1390€.
What Includes This Package?
-Reception and farewell to and from the airport and all VIP transfer during your stay in Istanbul
-Preview abd full medical examinations and analyses concerning the medical process.
-Hair Transplant (Sapphire FUE or Direct Hair Transplant (DHI)
-Plasma PRP -HT session to strengten hair and prevent hair loss and feed full hair follicles.
-Pharmaceutical Pouch containing basic drugs needed immediately after the operation in additions to shampoos, lotions and medical creams.
-Translator facilities
-Wound care / Dressing
-Warranty Certificate for life-long
-Accommodation for 2 nights
Why You Should Choose Turkey for Hair Transplantation?
Turkey, located between Europe and Asia, hosts over 20,000 people worldwide for hair treatment annually. Besides, it is a country of many cultures mesmerizing its visitors. Turkey has the latest technology and equipments. Turkey has very experience in the hair transplantation sector. Also, the cost of the hair transplantation in Turkey has lower prices than other countries.
Those looking for the best place to have a hair transplant and the cheapest one! As Medproper Health Tourism, we offer you best prices.
HAIR TRANSPLANT
Will I experience any pain during the hair transplant procedure?
How long is the recovery period after hair transplantation?
How soon can I expect to see results after the hair transplant?
Is hair transplantation a permanent solution for hair loss?
Is there a minimum or maximum age requirement for hair transplantation?
What should I expect during the recovery period after the hair transplant procedure?
Will there be any visible scarring after the hair transplant?
Can I continue to color or style my transplanted hair after the procedure?
How long do the transplanted hairs last?
Can I undergo multiple hair transplant sessions if needed?
Daha iyi bir deneyim için izninizi istiyoruz.
Medproper Heath Tourism olarak kişisel verilerinize önem veriyoruz ve gizilliğinizi korumayı ilke olarak benimsemiş bulunuyoruz. Bu doğrultuda sizinle iletişime geçmek ve analitik çalışmaların yürütülmesi için çerezler kullanmaktayız.