DHI Beard Transplant Package
With the DHI Beard Transplant Package elevate your facial aesthetics at ESTAFARYA CLINIC.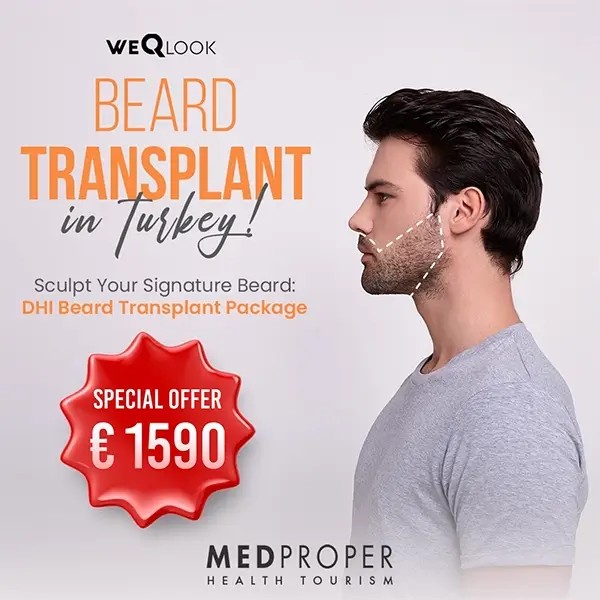 Together with Medproper and WeQlook partnership, we firmly believe in providing equal and compassionate care to all individuals seeking hair restoration solutions. Discrimination has no place in our practice.
How long Beard Transplant Last?
Beard transplant lasts lifelong.
Click here for Impeccable Beard Design!
What Is Included?
With advanced techniques like Direct Hair Implantation (DHI) with a non-shaving option, we ensure a comfortable and seamless experience for our valued patients.
⭑Reception and farewell to and from the airport and all VIP transfer during your stay in Istanbul
⭑Preview and full medical examinations and analyses concerning the medical process.
⭑BEARD Transplant (With technic called Direct Hair Transplant (DHI)
⭑Pharmaceutical Pouch containing basic drugs needed immediately after the operation in additions to shampoos, lotions and medical creams.
⭑Translator facilities
⭑Wound care / Dressing
⭑Warranty Certificate for life-long
⭑Accommodation for 2 nights in 5 star Hotel
CLICK HERE FOR FREE ONLINE CONSULTATION!
Note: Two full days in Istanbul is required for this procedure.
Please kindly see below the example plan of the treatment. I would like to underline that we need minimum 2 full days for this procedure.
Once the patients arrive to Turkey, our colleague will pick them up and guide them to their hotel. The transfer is for free of charge. Our colleague will also inform them about the exact date and time about when they will be picked up from the hotel.
1st day schedule: Transfer from the hotel to hospital- procedure- hotel transfer: the patients will be picked up from the hotel and transferred to our hospital in order to see the beard transplantation doctor. There will be physical examination and necessary blood tests will be done. It is recommended to have breakfast before the beard transplantation procedure (They can do it at the hotel or at the hospital for free of charge). After evaluation of the blood tests and local anaesthesia, the procedure will start accordingly. At the end of the procedure their transfer to hotel is arranged and They will be informed about the next day plan.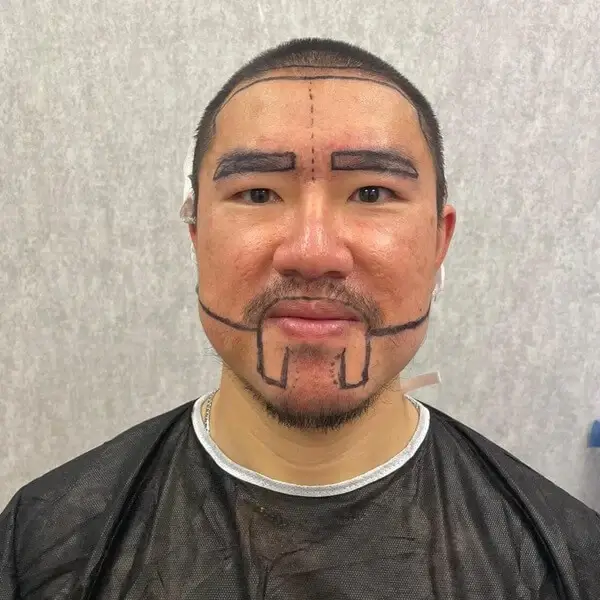 2nd day : Dressing and control examination; Beard wash- transfer to the airport. Also they will receive the necessary medicines and indications for post transplantation period.
P.S: This schedule might change according to your arrival and return flight details.
Please kindly note that; Hair transplantation is carried out under the supervision of plastic surgeons by the beard transplantation experts who obtained experience for years.
Sculpt Your Signature Beard!
Our specialized Direct Hair Implantation (DHI) technique offers a cutting-edge solution for achieving a fuller, more impressive beard. With our skilled team and advanced technology, we bring your beard aspirations to life in the most natural way possible.
What Does Medproper Offer?
1. DHI Expertise: Our accomplished surgeons specialize exclusively in the Direct Hair Implantation (DHI) technique, ensuring precision and authenticity in every graft placement.
2. Tailored Consultation: Your journey begins with a personalized consultation, where we understand your beard goals and craft a bespoke plan for your DHI beard transplant.
3. Revolutionary DHI Technique: Direct Hair Implantation involves meticulously extracting and implanting individual hair follicles, ensuring optimal density and a lifelike appearance.
4. Impeccable Beard Design: Our team designs a beard pattern that complements your facial contours, highlighting your masculine features.
5.Seamless Beard Integration: With DHI, grafts are implanted directly into the recipient area without the need for channel incisions, resulting in a natural, undetectable beard.
6. Minimal Discomfort: The DHI technique minimizes discomfort, as no scalpel incisions or stitches are required during the procedure.
7. Quick Recovery: Experience a swift recovery process with minimal scarring, enabling you to enjoy your newly enhanced beard sooner.
8. Vigilant Aftercare: We provide comprehensive aftercare instructions to nurture your transplanted beard for optimal growth and longevity.
9. Radiate Confidence: A meticulously crafted beard can boost your self-assurance, projecting a distinctive and confident image.
At MEDPROPER AND ESTAFARYA CLINIC, we embrace the power of the DHI technique to craft remarkable beard transformations. With meticulous attention to detail and a commitment to your satisfaction, our DHI Beard Transplant Package is designed to help you achieve a beard that reflects your unique identity
Connect with us today and witness your beard aspirations come to life.
Istanbul and LGBTQ+ Visitors
Istanbul has become an increasingly popular destination for gay travelers seeking hair AND beard transplants, and it's not hard to see why. The city offers a unique blend of rich history, vibrant culture, and a welcoming atmosphere that makes it an attractive choice for those in the LGBTQ+ community. Here are some of the positive aspects that make Istanbul a favorite destination for gay travelers seeking hair and beard transplants:
1. Inclusive and Welcoming Environment: Istanbul has made significant progress in embracing diversity and promoting inclusivity. The city's vibrant gay-friendly neighborhoods, such as Beyoğlu and Kadıköy, offer a warm and open atmosphere where LGBTQ+ visitors can feel comfortable and accepted.
2. World-Class Hair Transplant Clinics: Istanbul boasts a reputation as a global hub for medical tourism, particularly in the field of hair and beard transplantation. The city is home to numerous state-of-the-art clinics staffed by experienced and skilled surgeons, offering top-notch procedures that meet international standards.
3. Excellent Quality and Competitive Prices: Beard transplant services in Istanbul are known for their high quality and competitive pricing. This combination of expertise and affordability makes the city an appealing choice for gay travelers seeking to enhance their appearance while enjoying a memorable trip.
4. Istanbul's Vibrant Nightlife: The city's dynamic nightlife scene caters to diverse tastes, including an array of gay-friendly bars, clubs, and entertainment venues. Gay travelers can enjoy a lively and inclusive social life, where they can forge connections and make lasting memories.
5. Fascinating Culture and History: Istanbul's rich history and cultural heritage provide an engaging backdrop for travelers. Exploring iconic landmarks like the Hagia Sophia, Topkapi Palace, and the Grand Bazaar offers an enriching experience that complements the hair and beard transplant journey.
6. Turkish Hospitality: Turkish people are renowned for their warm hospitality, and this extends to all visitors, including gay travelers. Locals are friendly and welcoming, creating a positive and memorable experience for those coming to Istanbul for hair and beard transplant procedures.
7. Safe and Secure City: Istanbul is considered one of the safest cities in the region, providing reassurance to gay travelers during their stay. The Turkish authorities have taken measures to ensure the safety and well-being of all visitors, contributing to a sense of comfort and relaxation.
8. Culinary Delights: Istanbul's diverse and delectable cuisine is a treat for food enthusiasts. Gay travelers can indulge in a wide range of traditional Turkish dishes and modern international cuisine, making their stay a culinary delight.
9. Opportunities for Exploration: Beyond the beard transplant procedure and nightlife, Istanbul offers a plethora of sightseeing and recreational opportunities. From boat tours along the Bosphorus to relaxing in traditional Turkish baths, there's something for every traveler to enjoy.
In conclusion, Istanbul's inclusive environment, top-notch hair and beard transplant services, vibrant nightlife, and safe city atmosphere make it an appealing destination for gay travelers seeking to enhance their appearance while immersing themselves in the rich culture and history of this fascinating city.
DHI BEARD TRANSPLANTATION
What is DHI (Direct Hair Implantation)?
Am I a candidate for a DHI beard transplant?
How long does the DHI beard transplant procedure take?
Is the procedure painful?
Are the results permanent?
How is the recovery after DHI beard transplant?
Can I style and groom my transplanted beard?
Will the transplanted hair blend seamlessly with my natural beard?
How can I embark on my DHI Beard Transplant journey?
Gallery
Daha iyi bir deneyim için izninizi istiyoruz.
Medproper Heath Tourism olarak kişisel verilerinize önem veriyoruz ve gizilliğinizi korumayı ilke olarak benimsemiş bulunuyoruz. Bu doğrultuda sizinle iletişime geçmek ve analitik çalışmaların yürütülmesi için çerezler kullanmaktayız.