Hair Transplant Diamond Package
Together with Medproper & WeQlook partnership, we firmly believe in providing equal and compassionate care to all individuals seeking hair restoration solutions.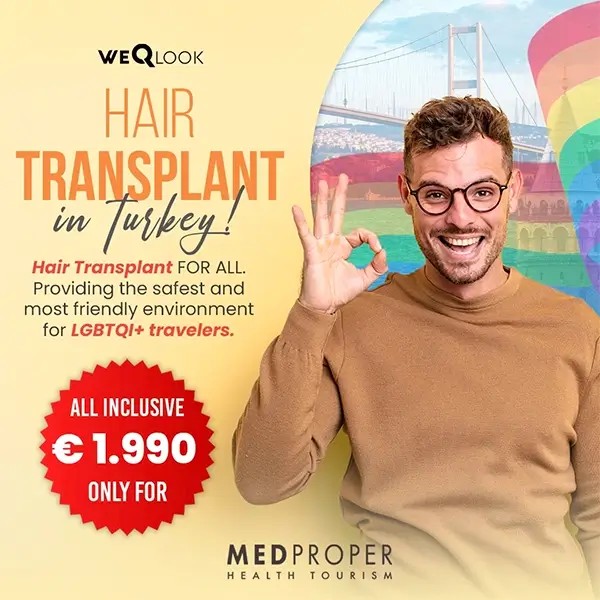 After The Hair Transplant Clinics In Istanbul LGBTQ+ Friendly?
Medproper, partnership with WeQlook is known for their inclusivity and LGBTQ+ friendly approach. Also, The city's diverse and accepting environment ensures a comfortable and positive experience for all patients.
FOR YOUR GORGEOUS LOOK!
How Safe Is Istanbul For LGBTQ+ Travelers?
Istanbul is considered a safe and secure city for all travelers, including those from the LGBTQ+ community. The local authorities have taken measures to ensure the safety and well-being of tourists, making it a comfortable destination to visit.
Discrimination has no place in our practice.
What Is Included In Our Diamond Package?
With advanced techniques like Follicular Unit Extraction (FUE) using Sapphire Pen and Direct Hair Implantation (DHI) with a non-shaving option, we ensure a comfortable and seamless experience for our valued patients.
⭑Reception and farewell to and from the airport and all VIP transfer during your stay in Istanbul
⭑Preview and full medical examinations and analyses concerning the medical process.
⭑Hair Transplant (Sapphire FUE or Direct Hair Transplant (DHI)
⭑Plasma PRP -HT session to strengten hair and prevent hair loss and feed full hair follicles.
⭑Pharmaceutical Pouch containing basic drugs needed immediately after the operation in additions to shampoos, lotions and medical creams.
⭑Translator facilities
⭑Wound care / Dressing
⭑Warranty Certificate for life-long
⭑Accommodation for 2 nights in 5 star Hotel
⭑Personalized Istanbul Travel Guide for LGBTQ+ travelers
Note: One of the following world's top technics will be used. Two full days in Istanbul is required for this procedure.
How Will The Time Managed While You Are In Istanbul?
Please kindly see below the example plan of the treatment. I would like to underline that we need minimum 2 full days for this procedure.
Once the patients arrive to Turkey, our colleague will pick them up and guide them to their hotel. The transfer is for free of charge. Our colleague will also inform them about the exact date and time about when they will be picked up from the hotel.
1st day schedule: Transfer from the hotel to hospital- procedure- hotel transfer: the patients will be picked up from the hotel and transferred to our hospital in order to see the hair transplantation doctor. There will be physical examination and necessary blood tests will be done. It is recommended to have breakfast before the hair transplantation procedure (They can do it at the hotel or at the hospital for free of charge). After evaluation of the blood tests and local anaesthesia, the procedure will start accordingly. At the end of the procedure their transfer to hotel is arranged and They will be informed about the next day plan.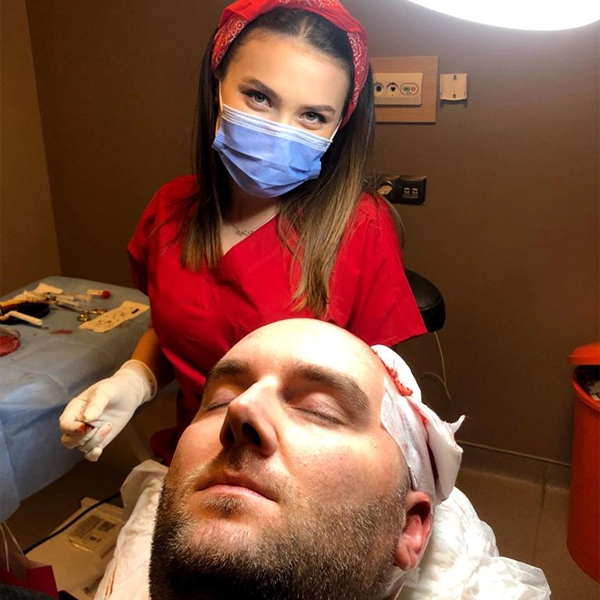 2nd day : Dressing and control examination; Hair wash- transfer to the airport. Also they will receive the necessary medicines and indications for post transplantation period.
P.S: This schedule might change according to your arrival and return flight details.
Please kindly note that; Hair transplantation is carried out under the supervision of plastic surgeons by the hair transplantation experts who obtained experience for years.
CLICK HERE TO DETERMINE THE BEST TECHNIC FOR YOU FOR FREE!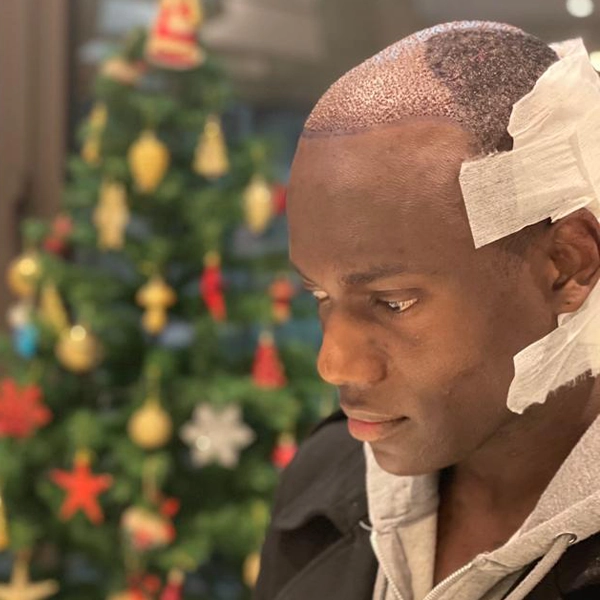 Two World's Top Quality Technics
FUE Hair Transplantation with Sapphire Pen
Our clinic utilizes the innovative Sapphire Pen technique for FUE hair transplantation. This cutting-edge approach enhances the precision and effectiveness of the procedure, offering numerous benefits for our patients:
1. Minimally Invasive: The Sapphire Pen's fine-tipped blades allow for gentle and minimally invasive hair follicle extraction, reducing trauma to the donor area.
2. Natural-Looking Results: The use of Sapphire Pen enables us to create tiny, well-distributed incisions, ensuring a natural appearance in the transplanted area.
3. Faster Healing: With reduced trauma to the donor site, the healing process is accelerated, allowing for a quicker recovery.
DHI (Direct Hair Implantation) with Non-Shaving Option
DHI is an advanced technique that offers a non-shaving option, catering to patients who wish to maintain their existing hair length. The DHI procedure at our clinic is characterized by the following advantages:
No Shaving Required: Unlike traditional hair transplant methods, DHI allows us to transplant hair follicles without shaving the recipient area. This means you can maintain your current hairstyle throughout the process.
Precise and Dense Results: DHI enables us to control the depth, angle, and direction of the implanted hair follicles, ensuring a natural and dense outcome.
Limited Discomfort: The non-shaving option minimizes any discomfort associated with the procedure, contributing to a more pleasant overall experience.
The Hair Transplant Process In Detail
Initial Consultation: Your hair restoration journey begins with a thorough and confidential consultation. During this session, we will discuss your specific hair goals and address any concerns you may have.
Precautions and Safety Measures: Patient safety is paramount to us. Our clinic adheres to strict infection control protocols to minimize any risks associated with the procedure.
Local Anesthesia: Local anesthesia is administered to ensure your comfort during the hair transplant procedure. You will be awake but free from any pain or discomfort.
FUE Sapphire Pen or DHI with Non-Shaving Option: Depending on your hair restoration plan, we will perform either FUE with Sapphire Pen or DHI with the non-shaving option to achieve your desired results.
Post-Operative Care: After the procedure, we provide detailed post-operative instructions to facilitate a smooth recovery. Our team is readily available to address any questions or concerns you may have during this period.
GET YOUR DESERVED HAIR NOW!
In conclusion, Istanbul's inclusive environment, top-notch hair transplant services, vibrant nightlife, and safe city atmosphere make it an appealing destination for gay travelers seeking to enhance their appearance while immersing themselves in the rich culture and history of this fascinating city.
HAIR TRANSPLANT DIAMOND
Why is Istanbul a popular destination for gay travelers seeking hair transplants?
Are the hair transplant clinics in Istanbul LGBTQ+ friendly?
What sets Istanbul's hair transplant clinics apart from others worldwide?
Can gay travelers expect a welcoming nightlife scene in Istanbul?
How safe is Istanbul for gay travelers?
Is there a recommended time for recovery after the hair transplant procedure?
Can gay travelers explore Istanbul's cultural and historical attractions during their stay?
What role does Turkish hospitality play in enhancing the experience for gay travelers in Istanbul?
How long do the results of the hair transplant last?
How can gay travelers get started with the hair transplant process in Istanbul?
What is the hair transplant procedure like, and how long does it typically take?
Is the FUE Sapphire Pen technique suitable for everyone, and what are its benefits?
How does the DHI (Direct Hair Implantation) non-shaving option work?
Will there be any pain or discomfort during or after the hair transplant procedure?
What is the recovery process like after a hair transplant in Istanbul?
How soon can I expect to see results after the hair transplant?
Are there any specific aftercare instructions for gay travelers after their hair transplant in Istanbul?
Are the results of the hair transplant natural-looking and permanent?
How do I choose the right hair transplant clinic in Istanbul for my needs?
Can I combine my hair transplant journey with leisure activities in Istanbul?
Gallery
Daha iyi bir deneyim için izninizi istiyoruz.
Medproper Heath Tourism olarak kişisel verilerinize önem veriyoruz ve gizilliğinizi korumayı ilke olarak benimsemiş bulunuyoruz. Bu doğrultuda sizinle iletişime geçmek ve analitik çalışmaların yürütülmesi için çerezler kullanmaktayız.