Depending on your teeth and needs, your treatment might include some procedures such as dental implants. In this case, the patient is given anaesthesia by the doctor. After treatment, the patients may feel some pain. But taking painkillers helps to get rid of the pain. After treatment, the most important case is the care of the veneers. You should brush your teeth twice a day with a soft-bristled toothbrush and use good mouthwash to provide oral hygiene.
What is a Hollywood Smile Makeover?
A Hollywood Smile Makeover is a comprehensive dental treatment that combines various cosmetic procedures to create a dazzling and radiant smile. It involves customized treatments tailored to address each individual's unique dental concerns and achieve a Hollywood-worthy appearance.
Will My New Hollywood Smile Look Natural?
Yes, one of the primary goals of the Hollywood Smile Makeover is to create a natural-looking smile that complements your facial features. Our skilled cosmetic dentists use their artistry and expertise to design a smile that enhances your appearance while maintaining a natural aesthetic.
What Does Hollywood Smile Give You?
Hollywood smile enhances your facial features and give you a more attractive and confident appearance. A beautiful smile helps you feel more confident in social situations. Some of the dental treatments involved in a Hollywood smile, such as teeth whitening and straightening, improves your overall oral health by removing stains and correcting bite issues. Dental treatments involved in a Hollywood smile corrects bite issues and improve your ability to chew and speak. With proper care, you can preserve your Hollywood smile for years. A Hollywood smile is customized to suit your individual preferences, with options for tooth shape, size, and color. The latest developments in dental technology have made Hollywood smiles affordable while also making them easily accessible.
Get in touch quickly and catch the smile below at affordable prices!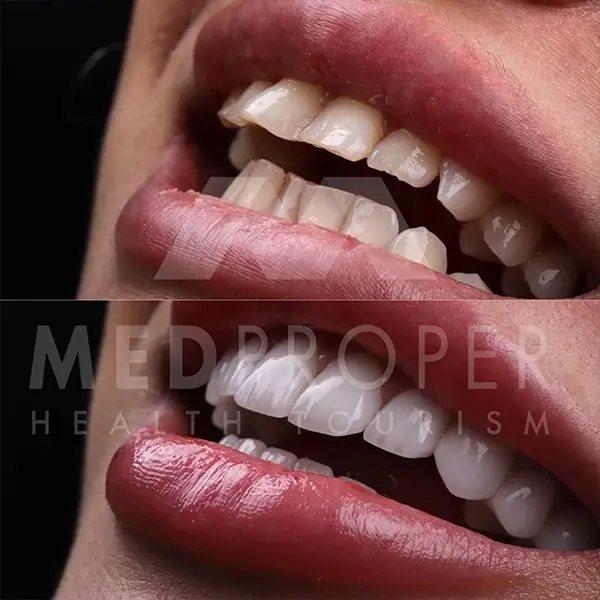 Can I Eat and Drink Normally With Zirconium Restorations?
Zirconium restorations are designed to withstand normal chewing and biting forces. However, it is essential to avoid excessive force or biting on hard objects to prevent damage. Additionally, avoiding highly pigmented foods and drinks can help maintain the brightness of your zirconium-enhanced smile.
Is The Hollywood Smile Makeover Painful?
The Hollywood Smile Makeover is designed to be as comfortable as possible. Local anesthesia is used during any necessary tooth preparations or treatments to ensure a painless experience. Our dental team is dedicated to patient comfort and will prioritize your well-being throughout the entire process.
LET YOUR SMILE SAY IT ALL,
IT'S YOUR TIME TO SHINE.
Get your Hollywood Smile with Medproper Health Tourism without wasting time.
For more fill out our Information Form.
Hollywood Smile is a total makeover of your smile. This procedure provides people with a more aesthetic and beautiful appearance.